Souvenirs are one of my favorite aspects of traveling. They're a fantastic way to capture a memory and cherish it long after vacation days are over. I'm always on the lookout for something beautiful, useful and original when I hit the road. One can only have so many key chains, but an original piece of art is a real treasure. No wasteful "dust collector" souvenirs here!
Whether you're in the market for the perfect gift or a trinket to commemorate your visit to Fort Wayne, Indiana; look no further than the Museum Store at the Fort Wayne Museum of Art (FWMoA). Housed in a newly renovated facility in the heart of downtown, the shop itself is a work of art. The Museum Store features handcrafted items from more than 50 local artists. You're sure to leave inspired and feeling good about your purchase. The inventory includes a wide variety of gifts such as fiber arts, fine and funky jewelry, home décor, books galore and more. The store also offers a wide range of price points to meet any budget. The friendly staff is a welcome addition to this personal shopping experience. They are a knowledgeable crew and happy to share information about the art and artists represented in their store. Some of my favorite items in the store include a bracelet made from coffee grounds, sea glass made out of wine bottles from an area winery, up-cycled t-shirts turned scarves and breathtaking one-of-a-kind jewelry. Just be careful not to drool on the display case!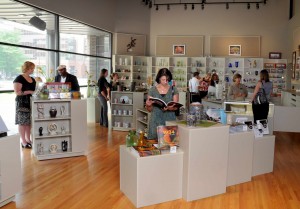 The Museum Store is also a terrific place to find Fort Wayne art by local artists. Remember your visit with a painting of your favorite Fort Wayne building. More traditional souvenirs include Fort Wayne themed note cards, mugs, posters, prints and such. Oh, and here's a fun insider tip: When artist Diane Groenert paints a building, she always paints the owners' likeness into the scene. Look closely next time you're at the store enjoying one of her colorful works of art. For more insider info about the art of shopping, visit us
online
.  Happy shopping!
The Museum Store
Fort Wayne Museum of Art 311 East Main Street Fort Wayne, Indiana 46802 Museum Store Hours: 10:00 a.m. - 5:00 p.m. Tuesday – Saturday Noon – 5:00 p.m. Sunday Closed Monday