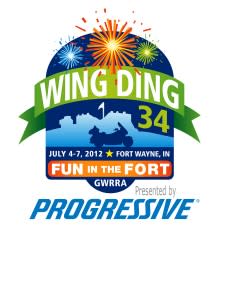 Big news in Fort Wayne! The Gold Wing Road Riders Association is holding their 34th annual Wing Ding in Fort Wayne from Tuesday July 3rd – Saturday July 7th! This is an exciting time for Honda Gold Wing enthusiasts and Fort Wayne residents alike! Fortunately, you do not have to own a Gold Wing to be involved with the Wing Ding. There are three events that the public is welcome to attend.
The first is the Welcome Party, nicknamed "Horses and Horsepower." This will be held in Grabill from 6-10 pm on July 3. The streets of Grabill will be closed to help welcome all of the Wing Ding attendees. During the party, all of the party-goers will be about to get a glimpse into the Amish lifestyle, buy some Amish goods, and taste some delicious Amish food.
The second event that the public is encouraged to attend and support is the light parade on July 4th at 9:30 pm.  The motorcyclists will decorate their Gold Wings with lots of lights and have a parade around the IPFW Campus! Be sure to stick around after the parade for the annual IPFW 4th of July Fireworks.
The third event that the public is encouraged to attend is the Wing Ding Grand Parade on Friday July 6th at 5:30 pm. This parade will travel through the streets of Fort Wayne as the participants make their way from the Memorial Coliseum to Parkview Field.
Feel free to come out and encourage these three great events during Wing Ding 2012 and learn more at www.VisitFortWayne.com/wingding.