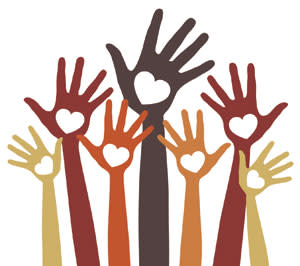 Turkey stuffing and pumpkin pie-making aside, Thanksgiving is a great time to lend a hand and give back to the community. There are several opportunities throughout Fort Wayne for individuals and families to get into the charitable spirit Thanksgiving Day and in the days leading up to it, and all November long – from preparing and serving food, to collecting and sorting goods – there's something for everyone.  
Thanksgiving Day
St. Mary's Soup Kitchen
1101 S. Lafayette Street, Fort Wayne, IN 46802 If you're looking for a way to volunteer on Thanksgiving, stop by the St. Mary's Soup Kitchen. What started in 1975 with just a few bowls of soup has grown into serving over 300,000 meals a year, and on Thanksgiving, the St. Mary's Soup Kitchen will be serving a traditional sit-down Thanksgiving meal for 700-800 people, plus preparing another 700-800 meals for carryout. Volunteers will help seat guests and serve food, drink and dessert; prepare carryout meals; set up and clean up. You're welcome to sit and share a meal with guests as well. Prepared desserts are also welcome. No need to sign up, simply show up! Volunteers are welcome to stop by on Thanksgiving Day and help out or drop off sweets anytime between 10 am and 1 pm. (Note: Small children might want to stay home.)  
The Week of Thanksgiving
Rescue Mission
301 W. Superior Street, Fort Wayne, IN 46802 Have time to give the week of Thanksgiving? At the Rescue Mission, the volunteer corps will be preparing nearly 3,000 meals and anticipates serving about 2,500 meals on Thanksgiving Day – the kitchen staff will be cooking up 200 plus turkeys! They'll be preparing for the big day in the days leading up to it with their "10 Days of Turkeypalooza" where volunteers are needed for prepping turkeys, side dishes and all the yummy trimmings that make up a traditional Thanksgiving Day meal. You can also drop off any nonperishable foods, or any clothing or home goods items on their needs list online, anytime. Call Lynne at (260) 426-7357, ext. 118.  
Anytime
Community Harvest Food Bank
999 E. Tillman Road, Fort Wayne, IN 46816 You can help throughout the holidays (and all year-long) at the Community Harvest Food Bank., which distributes about 10 millions pounds of food to hungry people in the nine counties the food bank serves. Volunteers can help sort food, distribute food on Saturdays, prepare food packs for seniors, assist with the Community Cupboard food pantry, or donate foods and goods. Contact volunteer coordinator Tammy at
tklimek@communityharvest.org
or (260) 447-3696.