In the center of Fort Wayne lies a quaint little tea place known as Sweet Violets. Located in a classical Queen Anne style home built in 1886, you can still find the original stain glass windows with a box-bay window in the stair landing. When I walked in, I received a warm greeting from the owner Debbie and the ambiance of an afternoon English tea.

The entrance is adorned with varieties of antique and contemporary tea pots and cups with matching plates for sale. This would be a tea pot or cup collectors dream. They also sell colorful homemade scarves, and jewelry, and what would English tea be without elbow length gloves, also for sale? For me, a tea lover at heart, I love the unique little "smell jars" they have of each tea they are selling. You can enjoy the aroma of fall favorites with pumpkin spice or apple spice. It is a nice little idea if you're not sure which flavor to chose. You'll notice they try to keep up with the seasonal changes in the brands of tea and items that are for sale in the entrance. While walking through the three different dinning rooms I noticed the original hardwood floors and tables enhanced with tea cups and settings fit for an afternoon tea with a Queen. The largest dining area looks like an English conservatory. The original owner Mr. MacDougal went on a trip to Europe and fell in love with the conservatories over there, so he brought the atmosphere home.  This is a great place to host a  bridal or baby shower. For any little princess that would love to have a tea party, this would be the perfect place. The Nursery Tea caters to the 10 and under crowd.  This includes little tea sandwiches starting with everyone's childhood favorite pb&j or cream cheese and strawberry along with miniature cakes, cookies, and tarts. Of course tea is included with a pot of caffeine-free tea, or you can chose from hot chocolate and lemonade.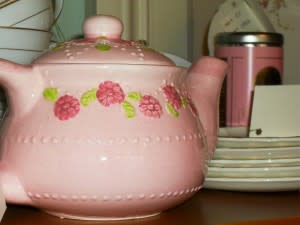 If you would like more than tea party pastries, they do offer lunches that include soup and sandwich, quiche, and even a yogurt parfait.  One menu item that caught my eye, "Dessert Tea," includes a scone served with either Devonshire Cream, lemon curd, strawberry jam, a selection of pastries, and a small pot of tea. If you cannot decide on which tea to try they do pick out teas that would compliment the meal or tasty treats you would be having. It would take a whole page for me to tell you all the varieties of tea they serve, but I can almost guarantee there is one seeping bag of tea for everyone. To give you a taste, they have a variety of white, classic black, flavored black, green, oolong, and caffeine-free teas. I did have my own little tea party with the orange vanilla tea and an almond scone. I picked the tea because I was told it tasted like a dreamsicle, and I was not disappointed!  I did enjoy the warm, soft scone, but I'm a treat lover and could have enjoyed a little bit more. I did take home some pumpkin spice tea leaves to try along with some t-sacs (tea filters).  I've enjoyed the tea and pumpkin smell almost everyday with some honey in it, perfect for this chilly weather. Sweet Violets is open Wed. thru Sat. Enjoy lunch, pastries, and teas from 11 a.m. to 4 p.m. If you're unable to chose which sandwich or pastries, you could order "Duchess of Bedford" Afternoon Tea a traditional English style tea served on a tiered stand.  Lower tier includes tea sandwiches and savories, middle tier has the scones, and the third tier the pastries. Prices range anywhere from a $7.50 soup and salad to $13.50 for the Edwardian lunch including sandwich or quiche, soup or salad, assorted pastries, and small a pot of tea. Reservations preferred.