My first memory of Zesto's on Broadway was back in the 1960s when my family would go to the
Children's Zoo
one day each summer. After a hot day of trekking around the zoo seeing so many fascinating animals, we would stop by Zesto's on the way home and cool off. It was as much a part of our day as picnicking outside the zoo grounds midway through the day at the zoo. Life doesn't get much better than a vanilla ice cream cone dipped in chocolate.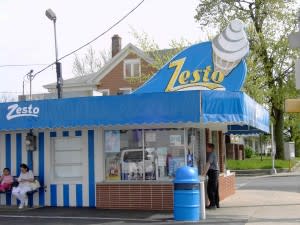 Of course, it was always a challenge to beat the drips. Depending on the heat of the day – usually it was VERY hot – the drips would start slow and then accumulate. That cone felt ten miles around as we tried to keep the ice cream from pooling at our feet. We never ordered other food. To our family Zesto's was reserved for ice cream orders. You could say Zesto's was one of the first handicapped accessible restaurants in the area. There are no steps other than getting out of your vehicle to walk to the tiny window to order. Because the place is so popular the small bench on the side of the building was almost always occupied by other customers. Therefore, we would hover near our car, licking our cones to our hearts content, and enjoy the day. Thankfully we can still do that today. Zesto's has opened for the season! You can find them at their original location at 2225 Broadway or at one of their newer locations: St Joe Center, Falls Drive or E. Washington Center. Check out their menu
online
. That chocolate-dipped cone I mentioned above is only $2.22 for a small.