Are you a foodie? Aspiring to be one? Then on your visit to northeast Indiana you must stop at The Olive Twist. 
I love to eat. Somewhere in the past few years of becoming an adult I have learned to like cooking. I watch cooking shows and listen to podcasts about food. I am nowhere near being chef quality, but when I get a chance, I buy a bunch of ingredients and experiment with delicious-sounding recipes in my kitchen.
I like to use olive oil when I cook. At the grocery stores I never think about which oil will better suit whatever it is I'm making. There should be no need to taste such a standard item, right? I learned otherwise when my sister lived in Spain and told me about an olive oil tasting she went to. She came back to the US with high quality oil that burst with flavor.
That was a couple years ago, and since then I moved to Fort Wayne. When I learned about The Olive Twist, an olive oil and vinegar tasting bar, I knew I would have to pay a visit. They feature a wide range of different high quality oils and flavor fused balsamic vinegars to sample and purchase.
How the tasting bar works is that you can pour a small amount of oil or vinegar into a sample cup from the metal spigots lined throughout the store. Then, take a sip. I found sipping to be the most convenient way to do it. You can also use crackers or dip your finger, though the woman explaining the process did warn that the balsamics get very sticky. My favorites were the Manzanillo extra virgin olive oil and the blackberry ginger balsamic vinegar, both of which I purchased.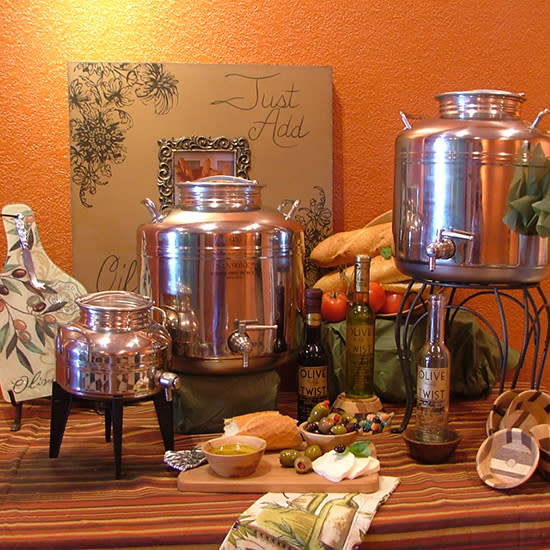 Certain oils and vinegars pair well together and with certain meals. The Olive Twist provides recipe cards for you to take home. There are recipes for savory dishes as well as sweet. The shop is also a retail boutique with pasta, pizza mixes, olives, and skincare products available for purchase. They also sell chocolate that is a delicious collaboration between The Olive Twist and Debrand Fine Chocolates, a world-renowned chocolate company based in Fort Wayne. Somehow olive oil, balsamic vinegar, and chocolate work together. I had the Debrand Espresso Chocolate Bar that contains Arbequina olive oil and espresso balsamic vinegar from The Olive Twist. It was a perfect mix of flavors: not too sweet, not too bitter. This may become my go to sweet when I want to treat myself.

You should try all these things for yourself! Visiting The Olive Twist would make a fun outing with friends and family. It's also the perfect place to find that perfect addition to a meal or your pantry. They also offer cooking classes each month at both of their locations. If you're planning to be in Fort Wayne for a longer visit or are looking for fun interactive activities to do during your stay, be sure to sign up in advance to ensure yourself a spot. (I have my eye on the Pierogi class in October.)

There are two Olive Twist locations. Their Fort Wayne location is on the southwest side of town on the busy thoroughfare known as Jefferson Boulevard. When you see signs for Covington Plaza with the grocery store Fresh Market, turn into that plaza. The Olive Twist is one of the little boutiques on the far side of the parking lot. The other location is in Auburn, IN, a town 30 minutes north of Fort Wayne. On their website, Experience Auburn describes Auburn as having big city style with small town charm. It makes a nice experience to visit the stores and the classic automobile museum there.

Even after you have left northeast Indiana you can order your favorite items on their website and call them for pairing advice. If you do have a chance to visit again, bring back your clean Olive Twist bottles for credit on your next purchase. The website, phone numbers, and location addresses are below.

Specific Details:

www.theolivetwist.com

Fort Wayne Location
Covington Plaza
6410 West Jefferson Boulevard
Fort Wayne, IN 46804
260-436-EVOO (3866)
Hours:
Mon-Wed 10am-6pm
Thursday 10am-7pm
Friday 10am-6pm
Saturday 10am-4pm


Auburn Location
Corner of 6th & Main
115 North Main Street
Auburn, IN 46706
260-333-0866
Hours (April-December):
Mon-Wed, Fri 10am-5pm
Thursday 10am-5:30pm <