Update: The Lima Road location has closed, and sales have gone mostly online, though a store may be reopening soon. Please contact them directly for the latest information.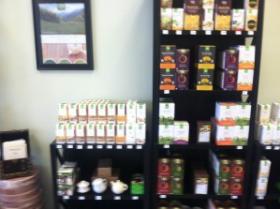 When was the last time you had a good cup of tea? In a java powered world, tea often takes a backseat to coffee concoctions. But the folks at Tamurai Tea want to change the way people approach tea through a more spiritual and intentional approach. The facility is more than just a retail outfit. In addition to being a purveyor of fine organic teas, Tamurai offers meditation classes as well as educational information. The owner, Tom, has been a practitioner of meditation for more than 40 years. His vision behind Tamurai is to provide a place for tea lovers and have their spiritual needs fulfilled, all under one roof. Speaking of tea, you can find Rishi and Organic India Teas, and Organic Eden Foods.
They also carry a variety of tea accessories, including teapots, tea brewers, infusers, Matcha whisks and bowls, loose leaf jars, and canisters. Supplements are also available for purchase. Insider's Tip: As this is high quality tea, don't expect to pay supermarket prices. 
The Matcha tea has a particular significance, as it served as an inspiration for the shop's namesake.  Used by samurais in Japan 700 years ago in preparation for battle, they were receptive to the highest form of prayer, affirmation, and intention. It's easy to see why Tom has a fascination with this potent tea. He found it fitting to name the shop Tamurai, as a nod to the power of tea in energizing and invigorating drinkers. Just as the tea fuels the body, Tom wants the meditation classes to cater to one's mental needs. People of faiths are welcome to attend the sessions. Private, semi-private, special group, and/or corporate sessions available anytime by appointment. Group classes are available every Monday and Wednesday at 7 p.m. for $7.50. per session. The shop is located at 9187 Lima Road, in the White Swan Plaza. Hours are 7 am to 4 pm, Monday through Friday and 10 am to 2 pm on weekends.