Update: For information on this year's event, visit our Festivals page.
What is a Busker and why is there a festival devoted to them?
A Busker is another name for a street performer, and there's no better place to enjoy these talents than at a downtown festival! There are so many different types of street performers who are so talented with their unique skills - it is truly a sight to behold.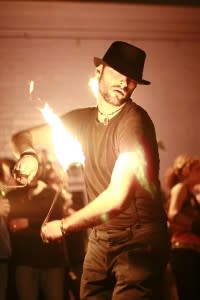 At BuskerFest you will see more than just singers and musicians. You will see chalk artists, jugglers, human statues, mimes, fire breathers, sword swallowers, magicians, aerialists, and much, much more. When you are at BuskerFest, you never know what you will see. It is always an exciting time.
The 3rd Annual BuskerFest will be on Saturday June 30 from 4pm – 11pm. It will be held on the corner of Wayne Street and Calhoun Street. Admission is free, but tipping the performers is encouraged and greatly appreciated. Some artists will have booths set up for you to buy their art.
Many of the performers will have their own area on the streets, but there are two stages where acts will perform and show off their skills. The performances that start on the hour will perform on the Wayne St. Stage, while the shows that start on the half hour will be on the Corner Stage. For a list of the stage performances or more information visit the Downtown Improvement District website or Visit Fort Wayne.