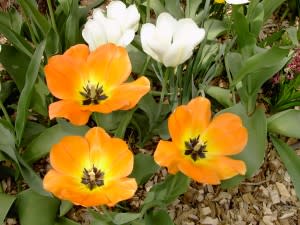 One of my favorite places in Fort Wayne is Foster Park. It is easily accessible on Fort Wayne's south side at the corner of Rudisill Blvd and Broadway Street. The park has a golf course surrounded by a paved walking path, tennis courts and playground. The covered pavilions can be rented for special events, including weddings, reunions, and prom photos. There is even a wooden cabin that makes an interesting conversation starter during a walk. But in my opinion those are all minimal in comparison with the park's best feature – its spring flowers.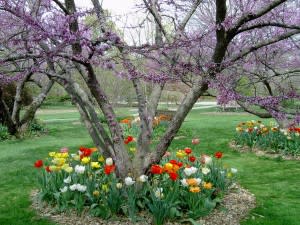 Each spring the park abounds with the blooms of thousands of bulbs in a myriad of colors and hybrids – daffodils, tulips, jonquils, gladiolus, grape hyacinth, lilies. Really it's a feast for the eyes! I used to walk the park with my camera each day during my lunch hour when working in the area, trying to capture some of the best blooms.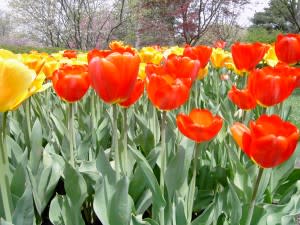 After viewing their beauty, I always returned to work with a brighter attitude. The many unique shapes, tints of color and sizes of each flower variety always amazed me. Not to be missed are the lilacs outside of the park along Broadway Street. For just a couple of weeks each Spring the fragrant lilac bushes look more like trees as they stand like sentinels along Broadway's west side. They offer heady aromas that when inhaled can send one into outer space with happiness. I am not exaggerating as this has happened to me. Don't wait to visit Foster Park and see if it doesn't become your favorite destination this spring.