One of my favorite things about Fort Wayne is that regardless of where you live, there is likely a trail nearby, and accessible. I recently moved to southwest Fort Wayne. Having lived in downtown for several years, I was unsure how that might affect my biking habit. To my surprise, there is a lovely (and scenic) route that takes you right into downtown! Here's how you can discover it for yourself. Start at the Engle Rd. Trailhead (1 block south of the intersection of Engle and Jefferson). Along the way, you will encounter some beautiful sights, so have your camera on hand! Eagle Marsh, home of the
Little River Wetlands
project, is a 716-acre wetland preserve located on the southwest border of Fort Wayne, Indiana. Eight miles of trails allow hikers to access the preserve's varied habitats of shallow-water wetland, sedge meadow, prairie, mature forest and young trees. Be prepared to see some critters! My favorite part is crossing the bridge over the wetlands.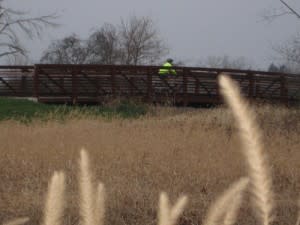 Not far from the preserve is a drinking fountain and bench, ideal for taking a breather. From here, follow the trail northeast to Rockhill Park.
Insider's Note:
This is a very flat bicycle ride with only a few but very slight elevation gains
. There are restrooms and a drinking fountain available at Rockhill Park. Rockhill Park is also equipped with a basketball court, baseball field, small playground and picnic tables.
Insider's Note:  There are several sections of the trail currently closed, largely between Engle Rd and Covington Rd.  Please be aware, during rainy times portions of the trail may be muddy and/or slippery. Please slow down and use caution especially on boardwalks.
If you're looking to appreciate the trails with other enthusiasts, you'll enjoy the Trek the Trails series. Join other bikers on May 21st for a group ride on the Towpath Trail. Meet at the trailhead in Rockhill Park near 1400 Catalpa St., east of the intersection. or W. Jefferson Blvd and Freeman St. All rides start at 6 pm. For updated information about closures, visit the Fort Wayne Parks and Recreation
website.
And, you can find more rides like these on our
Trail Ride Itineraries
page!