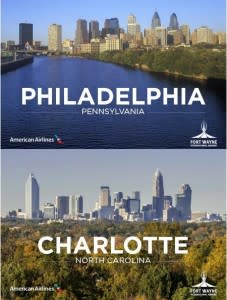 Beginning October 2nd, Fort Wayne International Airport will begin two new routes of non-stop service - one to Philadelphia, PA and the other to Charlotte, NC! Here at the airport we are thrilled to be able to bring these services to our customers, and can't wait to get them off the ground...so to speak. The best part about our new direct flights is that they appeal to a variety of different travelers. Whether you're heading to Philly for business, or Charlotte sounds like a great vacation spot, we hope that travelers of all kinds take advantage!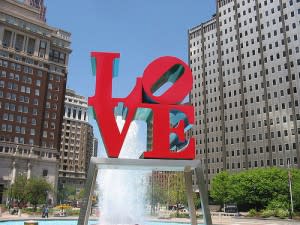 Traveling to Philadelphia? The "City of Brotherly Love" is a great place for both business and leisure travelers. After a long day of meetings, relax while getting a bite to eat at one of Philadelphia's delicious restaurants. You'll find everything from sports bars, to five-star dining - perfect for entertaining clients, or winding down at the end of the day before heading back to the hotel. Have a little downtime during your business trip? There are a variety of museums, attractions and parks to fill in your time. If you're heading to Philly for a vacation, there is plenty to do to keep you occupied! Explore Philly and dig deep into America's storied history with a visit to the Liberty Bell or Independence Hall, shop 'til you drop in one of the city's many shopping districts, take in a sporting event - and more! Not to mention the chance to indulge in a famous Philly Cheesesteak! You won't be bored in Philadelphia! For more information on things to do during your stay and to plan a trip, check out Visit Philadelphia.
Does a vacation to the rolling hills of North Carolina sound more your speed? Charlotte is the place for you! Whether you're looking for a family-friendly getaway, or want to be a little more adventurous, Charlotte has something for you. With a storied history in auto racing, Charlotte is home to the NASCAR Hall of Fame and Charlotte Motor Speedway - perfect spots to visit for racing fans. Take the kids to Discovery Place for hands-on science learning and fun, enjoy a private safari at Lazy 5 Ranch, or ride the coasters at Carowinds Amusement Park! If you're looking for adventure and the outdoors you can enjoy water-sports on Lake Norman, go for a hike in one of Charlotte and the surrounding area's 210 parks, or tackle the current whitewater rafting! To plan your trip to Charlotte, check out Charlotte Travel and Tourism.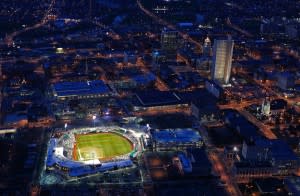 Some of you may be reading from afar and wondering if you can take advantage of these flights as well, and you can! While we are promoting the direct services TO these locations, that also means we will have flights back to Fort Wayne as well. So, if you live around Philadelphia or Charlotte and are interested in visiting our wonderful city, now is the time! Take that trip home to see family, book a hassle free business trip, or just come see what Fort Wayne, Indiana is all about! Start planning your trip today with itinerary suggestions, dining guides and a jam-packed calendar of events! For more information on these exciting new services, visit the airport online. To book your tickets, go to the American Airlines, or US Airways websites! Happy flying!