Are you ready to take your shot for the Hotel Fitness Championship?  With a fun new interactive promotion, you too can be a part of one of the final events for players to earn PGA cards.  The Hotel Fitness Championship is at Sycamore Golf Course in Fort Wayne from August 26-September 1 and is the biggest golf tournament this year in Indiana.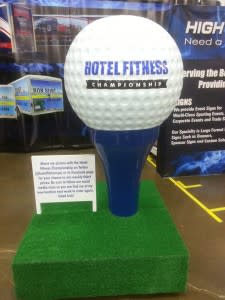 Show your excitement for the tournament by taking part in its "Tee Shot" interactive promotion.  Every week June 17 through August 18, look for the Hotel Fitness golf ball in different locations around Fort Wayne.  Clues and information will be shared on their
Facebook
 and
Twitter
 pages to help you find its location.  Then, take your picture and send it to Hotel Fitness Championship on social media—post to its Facebook wall or use @HotelFitChamps on Twitter.  You'll get a promotional code for a discount on tickets, and one randomly selected participant will get two Upgraded Weekly tickets, valued at $230, each week.  Every week the golf ball will be in a new location, so be on the lookout when you're traveling around Fort Wayne. Tickets for the Hotel Fitness Championship start at $10 and can be
purchased
 for any combination of events during the tournament.  Eight hundred volunteers are also needed for the event; find more information about volunteering
here
.