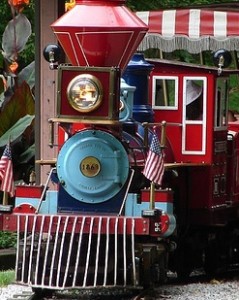 When I was a kid I remember the excitement of riding the train at the
Fort Wayne Children's Zoo
. I couldn't wait to hear the "whoo-whoo" of the train's whistle and delve into the darkness of the tunnel as we inched along the Shoaff Lake shore.  That very same excitement was shared by my own kids on every visit to the zoo, and now it's something I've had the privilege to pass along to my own granddaughter.
My grandkids are blessed. Not only do they get to enjoy the excitement of the Zoo Train and the Pony Rides, but today there are even more rides to enjoy. There's the River Ride, Endangered Species Carousel, and the newest addition, the Sky Safari.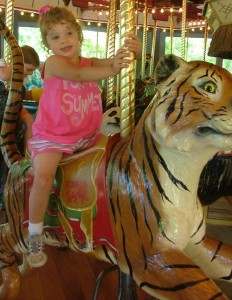 My granddaughter and I visited the zoo recently, and for her, the Endangered Species Carousel was a favorite. Choosing which animal to ride was a big deal. After much thought, she chose the Tiger and was all smiles as she went around and around, up and down. Of course Grammy had to choose her own animal to ride and I sat there beside her – smiling and feeling like a kid again. She also loved the River Ride and, of course, the Zoo Train. Next year we hope to try the Sky Safari, a re-purposed ski lift that whisks visitors above the African Journey to peer down on the inhabitants below. When visiting the Fort Wayne Children's Zoo, rides are a big hit with the kids, but let's be honest with one another - the rides are a hit with the parents and even the grandparents too. So if you're looking for something fun to do with your kids or grandkids or both…check out the Fort Wayne Children's Zoo Rides. I bet you'll have a blast! I know I sure did.