Whether you're considering relocating to Fort Wayne, or you're visiting and want to get to know the city a little better, a driving tour can be a great way to see all of our great city. We've put together a Fort Wayne drive-about guide to seeing the sites through your windshield.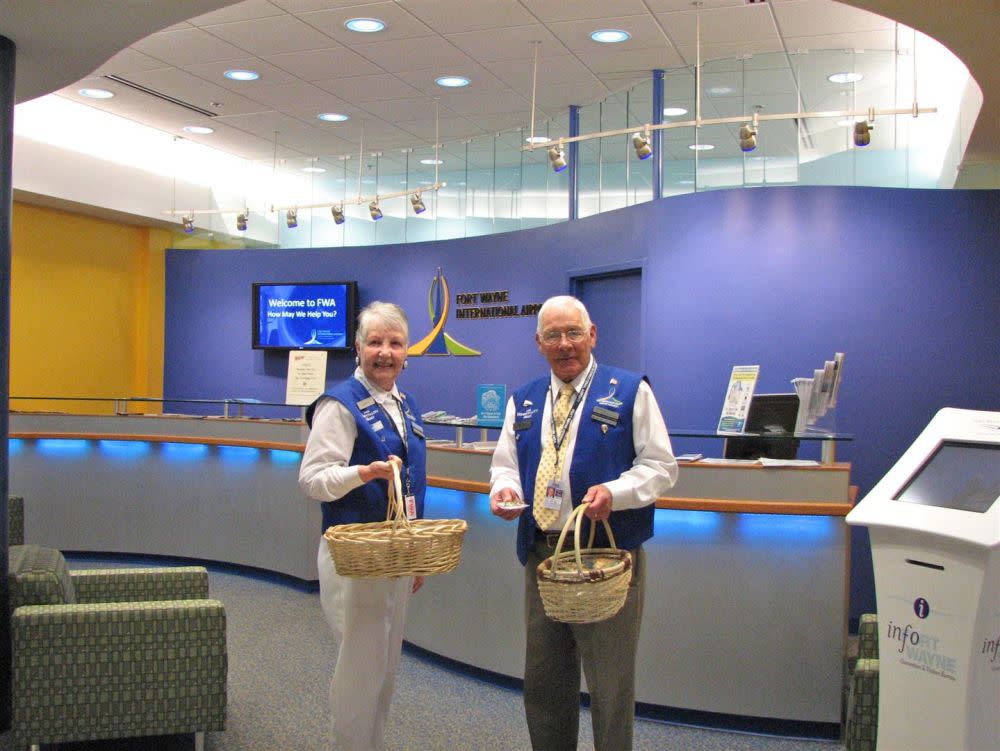 FWA Your flight has landed and you're ready to be on your way, but before you leave, check out the Greater Fort Wayne Aviation Museum located in the terminal, at the top of the escalators. Aviation history buffs will find historic details of the hold Baer Field and local aviation heroes. Admission is free. Be sure to take the cookie they'll offer you as you leave the terminal - it's a deliciously sweet way to be welcomed to our city and it's made right across the street. Military history buffs will also enjoy the retired military aircraft showcased at the entrance of to the National Air Guard Base located just east of the airport.
Come on by! Stop by our Visitors Center, located in downtown Fort Wayne at 927 Harrison St. (on the corner of Harrison and Washington directly across from the Grand Wayne Center) for maps, guides, and information about what to see and do.
Explore Downtown Downtown Fort Wayne is easily accessible on foot and parking is reasonably priced near by. From here you can venture through downtown to enjoy the architecture and history of our great city. Grab a bite at one of our many restaurants, take a walk around Parkview Field (it's open during non game days and admission is free), shop in our unique shops, and check out our historic Allen County Courthouse.  If you're looking to know about the history of Fort Wayne, pop in to the Fort Wayne History Center located at 302 E Berry St (on the corner of Barr and Berry).  If you'd like to know more about the architecture and preservation of area buildings visit ARCH, Architecture and Community Heritage, at 818 Lafayette Street.  Downtown Fort Wayne has beautiful parks to enjoy as well.  Relax by the fountains in Freimann Square or go ice-skating in Headwaters Park.
Check out our great neighborhoods Consider a walking tour of West Central's historic homes. This historic neighborhood, located just west of downtown Fort Wayne boasts many restored homes and tree lined streets just waiting for you to stroll down. Looking for a sweet treat and some great shops? Check out the East State Neighborhood with great shops to pop in and out of. Don't forget to pick up a cupcake at Yum.Mee's Bakery (I recommend the vanilla). Want a great place to watch the game? Check out Wrigley Bar and Grill in the Georgetown Neighborhood.
Get a little shopping in while you're in town Fort Wayne has two great malls. Glenbrook Mall and the surrounding shopping centers have all of the stores you're looking for. From Macy's to Bobick's Golf there's a little bit for every shopper. Or, head to Jefferson Pointe for a beautiful shopping experience in their outdoor mall. With high end department stores such as Von Maur and boutiques such as Vera Bradley and Acorn you'll find the best Fort Wayne has to offer.  Make sure to stop by DeBrands for a truffle or share the decadent ice cream sundae with a friend.
Take in a game We love minor league sports in Fort Wayne. No matter the time of year, you can find an event to watch. Check out Mad Ants Basketball, Komets Hockey, The Derby Girls, or a TinCaps Baseball game. Tickets are reasonably priced and there isn't a bad seat in the house.
Be a kid again Explore the Fort Wayne Children's Zoo. It appeals to kids from 3-93 and will make you want to return. Be sure to feed the giraffes and take in the sea lion show.  If animals aren't your thing, head on over to Science Central where kids can learn about science hands on.  You can't miss their brightly painted smoke stacks just north of downtown.
Take in a festival From late spring to early fall there's a festival almost every weekend. You're sure to be entertained by GermanFest, the Three Rivers Festival, or Johnny Appleseed Festival. Even if you're not here during the Johnny Appleseed Festival, stop by Johnny Appleseed Park at 1500 Coliseum Blvd. There you'll find the final resting place of John Chapman, aka Johnny Appleseed.
Experience the Arts Explore the Art scene in Fort Wayne. The Art Campus is located on the east side of downtown and is walkable. There you'll explore museums, galleries, studios, theatres, and a cinema.
Eat! Fort Wayne is know for its unique treats.  Whether you're in the mood for Coney Dogs at Coney Island on Main Street or a tour of DeBrand's Chocolate Factory (complete with samples) on Auburn Rd there's something for you. You'll lovesimple Greek meals from Friends Too, a great steak and a merlot from Chops, and Italian goodness from Casa's.  You're sure to find something that fits your taste buds.