There's just no place like Sweetwater. From the two-story slide to the "Microphone Vault" to the electric piano playing "Memories" from Cats, this place is unique.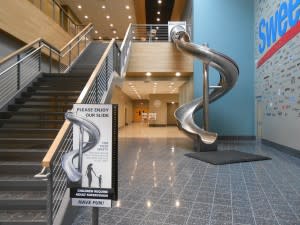 Sweetwater Sound is Fort Wayne's largest distributor of electronic musical services and equipment. From selling quality microphones to offering great recording studios and sound tech services, this place is on par with the best recording studios in the nation. But Sweetwater also sells Apple products, grand pianos, and other tech-savvy materials. How about picking up sheet music for your next lesson at the Sweetwater Academy? Just walk over to Dave's Music Den, and you should be covered. Getting a little hungry while waiting for your kids to finish their piano or guitar studies? Check out the Downbeat Diner, with its tasty selection of sandwiches, salads and other fresh-made foods. Or if you need to defrag, there is the arcade (check out the Ping Pong or Demolition Man pinball machine) and a salon/spa, with chair massage services and hair care professionals.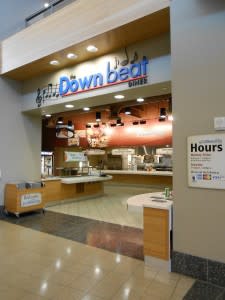 The minute you walk into Sweetwater Sound, you're immediately struck with how friendly and sincere everyone is. The receptionist next to the front door is ready to locate anyone you need to see, or to send you down the correct hallway to find the right room. Chuck Surack, the founder and president of Sweetwater, is always on the floor, checking to make sure that everything is running smoothly. The building that houses Sweetwater is huge – but it is a LEEDS certified property. From the white-toned roof (which deflects solar heat) to the renewable wood resources that cover the walls, many of the products used to create the Sweetwater building are either recycled materials or rapidly-harvested renewable substances. Windows are everywhere, making the inside of the building as bright as the outdoors. While the building and products offered by Sweetwater are cool to experience, the really interesting part comes when you get to see the employees at work. In the sound studio area, a tech experiments with different tones, shaping a recording like a chef creates a masterpiece. A sound bends, pitching high, low, galactically spacey, then digi-pop sparkly. With a flurry of mouse clicks, the sound track is blended with other tracks and the full music emerges, whole and complete, from a large pair of speakers behind the sound tech's desk. Frequent tours are given of the Sweetwater Sound building. Visitors should contact the concierge, Julie Ratliff, at 800 222 4700 ext. 1137 to reserve a specific tour time – tours can be arranged for the morning or afternoon. Visitors are welcome to try out the arcade, visit the Downbeat Café, and explore the different shop floors of Sweetwater. Tours can focus on the LEEDS eco-friendly innovations that Sweetwater has incorporated, or they can explore the entire building with an eye to the music industry – even viewing the large warehouse area from the huge second-floor window.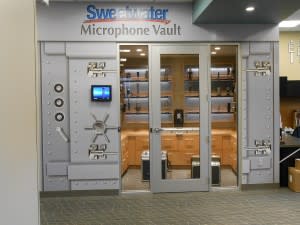 Whether you're looking for a place to start songwriting lessons or you just want to tour the store that sent you your new guitar, Sweetwater has lots of room to explore and they'd love to see you. 5501 U.S. Hwy 30 W, Fort Wayne, IN 46818