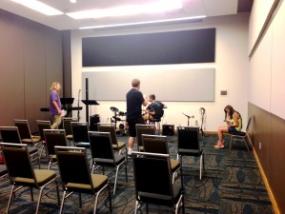 The gritty sounds of Queen's "Another One Bites the Dust" pour out of one of the conference room and into the hallway. I'm surprised when we enter the room and it isn't seasoned musicians playing, but young kids, ages 12-18. They are working on one of their cover songs, part of Sweetwater Sound's Summer Rock Camp. This week-long camp affords children the opportunity to nurture and enhance their musical talents. The students,who come from all over Fort Wayne and the surrounding areas, are put into bands the first day, giving them the opportunity to meet other budding musicians. The bands work with professional musicians all week to developing a set for Friday's concert.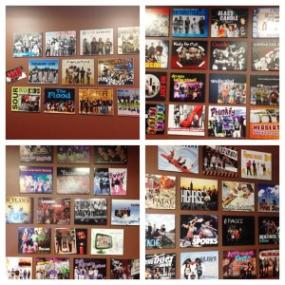 Not only will the bands perform three covers, but they will also debut an original song, design a CD cover, and record their song at the on-site recording studio. The students form real bonds with their band-mates that even sometimes turn out lasting past the camp, says director of the academy Kevin Christenson. The camp offers students a chance to focus on their music and develop their skills further. For a week, they are allowed to be real rock stars and take on the responsibilities associated with that title. And, with access to all the state-of-the-art equipment and facilities that Sweetwater offers, the musicians really come away with the experience of a lifetime. Rock Camp will be held three more weeks this summer: July 7-11, July 21-25, and August 4-8.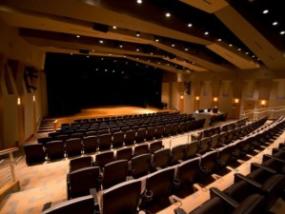 There are openings for all weeks still, so come to this Friday's concert, June 27 at 6:30 p.m. in the Sweetwater Performance Theater, and see if it is something your budding musician would love. Or, if you are just visiting Fort Wayne, stop by for a unique night out. The performance will run like a ticketed rock concert complete with lighting, fog, and great tunes played by talented musicians. Make sure to get there early to get a seat, and stick around after and take a walk around the facility. Take a look at the Rock Camp band CD cover designs, see how the warehouse runs and check out the microphone vault. Sweetwater also offers Open Acoustic Jam every second and fourth Tuesday starting at 5:00 p.m. Bring your guitar and play a song, or just come to watch and enjoy the music.