Chatting with "
Sweets So Geek
" owner Chad Seewald it quickly becomes apparent where the soul of "Sweets So Geek" comes from. Today, Seewald and some generous family volunteers including his wife Heather are preparing for their retail shop's grand opening. Pouring another mug of coffee that has no doubt been drained and refilled a couple times this week, there's a palpable sense of excitement tinged with just the right amount of exhaustion. "It's the first time I've felt this tired and feel like I haven't been working," says Seewald.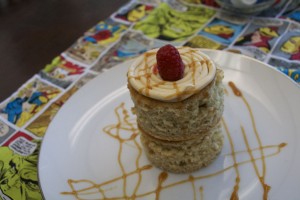 The interior of "Sweets So Geek's" newly opened retail space lives up to the name. The shop boasts Dr. Who paintings, some framed comic pieces from Seewald's personal collection and a pretty fantastic watercolor that I'm not going to reveal here because we don't do spoilers around these parts. The décor continues into the bathroom that is adorned with more nerdery that only gets better when you turn off the lights. "Only special people do we take into our bathroom and turn the lights off!," jokes Heather.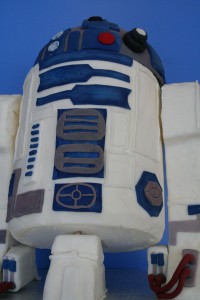 Beth Moak at
Raven Designs
keeps retail shelves stocked with comic book themed plush bots. A cadre of clever, pun-ridden chocolates consistently populates the front counters with labels printed by Julie Wall Toles of
Hedgehog Press
, the "3
rd
Sweets So Geek member."
Old Crown Coffee
provides "Sweet So Geek" with their own blend, a fitting bit of cyclical history now that the business occupies Old Crown's original location. "Mike (Woodruff) has been extremely helpful in this whole process…offering tips and mentoring us."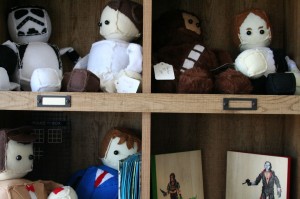 Though not originally fancying himself a connoisseur of haute cuisine, Seewald found a taste for baking, pastries, and desserts after landing a gig at the now shuttered Fox Fire restaurant in Muncie, Indiana. The position afforded him the opportunity to expand his culinary interests as he apprenticed under the resident French pastry chef named Bruno with forearms that were slightly terrifying. After months putting in extra hours Seewald eventually made his way up to the lines where he refined his skills. Seewald's interest in dessert takes a cue from his father who attended the Culinary Institute of America. Despite not really sharing much interest in cooking when growing up, father and son are now involved in the occasional bout of friendly competition. "The only thing my dad showed me was 'this is the pointing end of the knife so don't stick yourself with it.'" Having decided to settle down and raise a family, Seewald's father still gets the opportunity to flex his culinary muscles at the Adams County Memorial hospital which Seewald proudly declares to consistently be Decautr's number 1 visited restaurant. Today Seewald attempts to keep his kids involved in the day-to-day operations at "Sweets So Geek." Their daughter even gifted him a dessert cookbook from 1949 that Seewald will be drawing from for inspiration. Heather has been a tremendous partner during this transition into a retail space. "Her job is to reign me in," Seewald gests.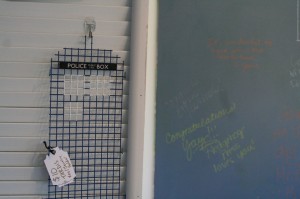 Having gotten their start selling to
Firefly Coffee House
, game shops and through an Etsy account "Sweets So Geek" is now on the lookout for new adventures in retail space. Every two weeks "Sweets So Geek" will host "Date Nights" featuring special desserts based on a particular theme. In honor of an anonymous angel investor with an English background, Seewald plans to always offer a crème brulée. The latest example is infused with wild orange tea and topped with a honeyed whipped cream. Numerous specialty desserts will make their way to the roster including various cakes (a Guinness Stout cake with Bass Ale caramel for example), scones, brownies, and of course new additions to their chocolates. And if you're looking for something specific "Sweets So Geek" also takes custom cake orders. Collaboration has been a large part of "Sweets So Geek's success. Having developed a close kinship with
Bravas
, the two businesses setup an equally beneficial trade system offering desserts for a dinner. Bravas showed up for the shop's grand opening and Seewald says they are currently in the process of planning a dessert for Bravas' soon to open storefront. "Sweets So Geek" has also provided special chocolates for events at the
Embassy Theatre
as well as
Cinema Center
. The Seewalds also hope to provide a new opportunity for aspiring Fort Wayne businesses, allowing them to rent their now ample kitchen space.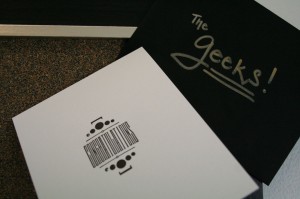 This communal spirit extends to a rather impressive "Sweets So Geek" fan base. "We have loyal people that are at every single event," says Seewald. For "Sweets So Geek's" soft opening two kids showed up in their favorite superhero outfits shortly after they heard a very low-key announcement. Visiting the shop for their Grand Opening I saw a steady stream of new and old customers checking out the new space. "I want to be the sort of place where people can find that special cake for an anniversary or piece of chocolate for when you screwed up yesterday," says Seewald When I asked Seewald what his experience has been opening a small, family business in Fort Wayne his response was very gracious to the business community, "Nobody says you can't do it, you shouldn't do it. Fort Wayne small businesses want each other to succeed…Fort Wayne has an amazing group of small businesses and if you're willing to search them out you just can't find them elsewhere." You can check out "Sweets So Geek" at their now open retail location at 3410 North Antony Boulevard.