We asked local fashion blogger at Curlybyrdie Chirps to share some of her favorite sweater weather tips, shopping finds, and more. Sport your perfect sweater weather outfits at our favorite Fort Wayne, Indiana fall outdoor events for a weekend filled with festivals, trails, and more!
Sweater Weather According to Mary at Curlybyrdie Chirps
It's that time of the year again in Fort Wayne, Indiana. The leaves are turning their most beautiful shades and I am totally obsessed with everything pumpkin spice.
When I think about fall, my mind immediately goes to the Johnny Appleseed Festival, pumpkin spice lattes, Debrand Fine Chocolates caramel apples, and Friday night football games. It's my favorite time of the year and it may have something to do with my birthday being in October.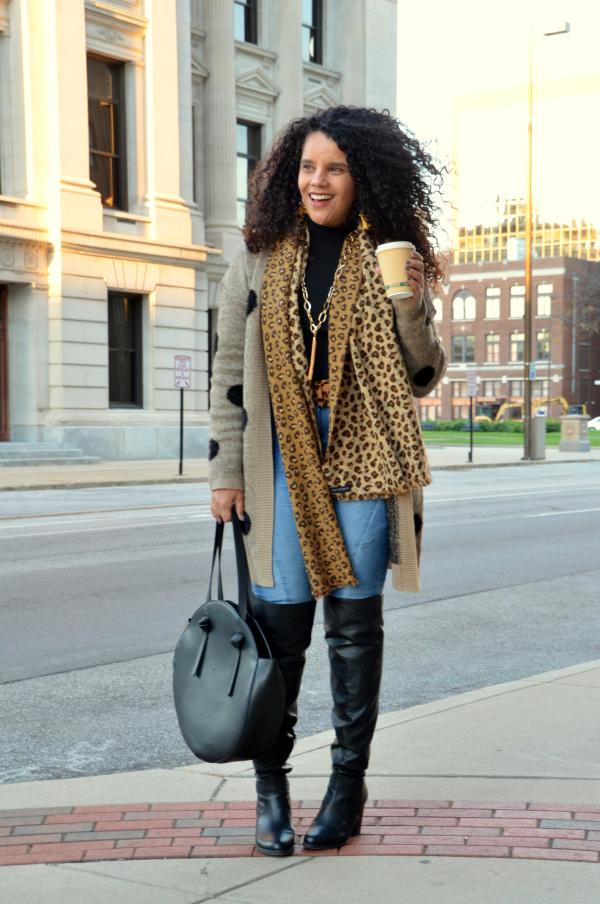 Photo by Kimberly Bailey from KB Photos
The great news in fashion, it's officially sweater weather and I am loving it. The temperatures are getting cooler, so you obviously want to stay warm but also look stylish at the same time. Sweaters are a main staple in my wardrobe this time of the year, and my favorite is the long soft cardigan which is pretty much my fall uniform. It's a versatile piece and that you can style so many ways and a cost-effective way to update your wardrobe. One of my favorite ways to wear the cardigan is with my skinny jeans and boots. This looks allows me to feel put together with minimal effort and with such a busy life working full time, being a mom and fashion blogger.
Build the Perfect Sweater Weather Outfit
My dotted sweater pairs nicely with animal print and the softness are what sold me on this. To me, how a sweater feels against my skin is almost as important as how visually pleasing it is. This time of the year I am all about that cozy feel while sipping on that pumpkin spice latte, or maybe try the Sage Cortado from Fortezza. I like to start building my outfits with the statement sweater, I then can add accessories like a leopard print belt and scarf for some fun pattern mixing. Crazy fashion rules are out the window - now fashion is all about your chance to show off your creativity and personality.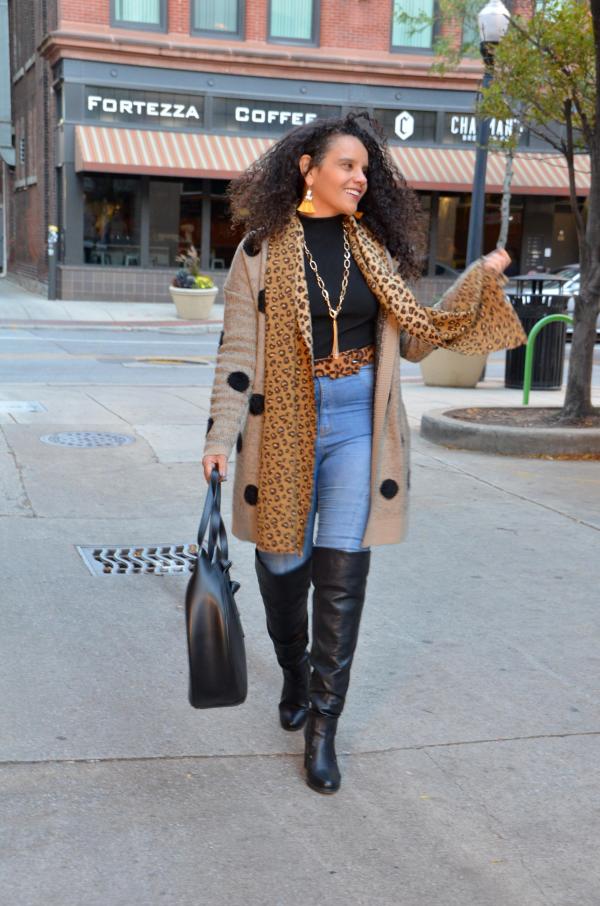 Photo by Kimberly Bailey from KB Photos
Find the Perfect Sweater Weather Outfit in Fort Wayne
Fort Wayne really has some amazing places to shop. I love shopping Glenbrook Square at some of my favorite stores like New York and Company and HM and the discount stores like Gordman's and Marshall's. 
There are also some fashion-forward local boutiques that have new and original pieces such as the Urban Hippie and the Dutchess Boutique which are two shops located in downtown, Fort Wayne. It's always good to support local businesses when you can. We can't forget about thrifting a perfect way to build up that sweater inventory without breaking the bank and some of my favorites are the Goodwill and Clothes Mentor.
Sweater Weather Activities in Fort Wayne
For some, it's the fall treats, with the best cocktails, coffees, and s'mores. For others, it's all about corn mazes, pumpkin patches and the changing of the leaves.
And, in Fort Wayne, it is a great time to enjoy the most special events of the year. No matter what you like best about the fall, sport your sweater weather finds on a weekend getaway in Fort Wayne, Indiana!
Grab the pumpkin drink of your choice, I am a huge fan of the pumpkin chai latte myself, head out a little for some retail therapy, and snag a few sweaters. Judging by these already cold nights we are going to need them. 
How are you Fashionista's rocking your sweaters during a weekend away in Fort Wayne, Indiana?