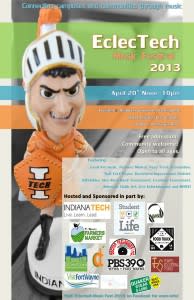 Indiana Tech is giving the "little guys" a chance to shine in Fort Wayne with their first ever EclecTech Music Festival! This all-day event hopes to promote live, local music, the importance of supporting local economic development and agriculture.
Different from other music festivals looking to bring in the big names, EclecTech Music Festival is hoping to bring some attention to lesser known musicians by bringing them to the forefront of the Fort Wayne music scene. With acts hand-picked from open jam sessions and small shows, the event looks to be a new-avenue for local musicians to get their name out there.
The event is free and open to the public with a lot of different things to do! The festival is featuring over 20 farmer's market vendors bringing fresh fruit and vegetables, sweets, handmade goods and more! Some of Fort Wayne's favorite food trucks will be on hand for when you need a bite to eat with representatives from the Food Truck Association. There's even fun for kids of all ages to enjoy! There will be inflatables on sight as well as a chalk art competition and live big-screen Rock Band. 
EclecTech Music Festival will also give the community a chance to explore Indiana Tech's great campus with campus tours being offered throughout the day. This will be a great opportunity to bring the community together to enjoy local live-music and support local businesses! Not to mention the huge amount all great activities they have planned for throughout the day!
EclecTech Music Festival will take place on Saturday, April 20, from noon-10 p.m. in the Indiana Tech Andorfer Commons parking lot. The event is free and open to the public! Don't miss out on this new music fest that will hopefully be a Fort Wayne staple for years to come! For more information you can visit the EclecTech Music Festival's Facebook page!