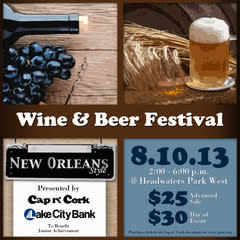 This Saturday, August 10, you can experience the ambiance of New Orleans right here in Fort Wayne - and support a great cause! Cap 'n' Cork and Lake City Bank will sponsor the JA Wine and Beer Festival - New Orleans Style to benefit Junior Achievement at Headwaters Park West. This is a great chance to sip on your favorite drinks, while supporting a good cause.
Come downtown and relax while sampling some great beer and wine from local Indiana craft breweries and wineries. If you're interested in how these delicious drinks are made, these wineries and brewers will be offering up their knowledge of just how grapes are transformed into delectable wines and hops turns into the hand-crafted beer you love.
Bring a blanket, your favorite lawn chair and your friends to enjoy the beautiful summer weather! In addition to the great selection of wine and beer, there will also be live entertainment and local food vendors on hand to keep the festival atmosphere going throughout the day.
According to Lena Yarian, President of Junior Achievement of Northern Indiana, this new annual festival is continuing the tradition of Fort Wayne having great festivals all summer long, and is a great opportunity to support Junior Achivement in a fun setting; "The Wine & Beer Festival is a way for adults to gather in support of JA's mission of preparing young people for the opportunities and realities of work in the 21st century global marketplace."
The Wine and Beer Festival goes from 2pm-6pm and tickets are still available! You can still purchase pre-sale tickets to the JA Wine and Beer Festival for $25 on the Junior Achievement website, and pick them up on Saturday at the festival.  Pre-sale tickets can also be purchased at local Cap n' Cork locations. Tickets purchased at the festival are $30. If you don't want to drink, but want to enjoy the day and festivities, designated drivers can purchase tickets for just $10. There's no reason to miss out on this day of drinks, fun and food!
To find out more information about the Wine and Beer Festival - New Orleans Style, check out Visit Fort Wayne, or visit the Junior Achievement website.