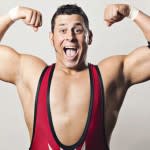 Colt Cabana has wrestled in three different decades and in all of the top promotions, including WWE and Ring of Honor. Now he's creating quite a buzz for himself not just in the ring, but also with his wrestling comedy shows and his weekly podcast The Art of Wrestling. On Saturday, March 23, Colt is bringing his one-man entertainment machine to Fort Wayne as part of Heroes & Legends of Wrestling at the new Lutheran Health Sportscenter, and he took a few minutes to talk to the Insider Blog about his career and this exciting event.
***
VFW
:  Thanks for taking some time for the Fort Wayne Insider Blog, Colt. You've spent quite a few years in the wrestling world, and you started not too far from the Fort Wayne area. Can you tell our readers a bit about how you began your pro wrestling career?
COLT
:  Not too far from Fort Wayne, no. I started in Chicago, IL. I was 18 years old and ready to take on the world. The Midwest is where I did all my initial traveling and learning. I've done my fair share of shows in Indiana.  Evansville, Terre Haute, Granger, you name it, I've been there.
VFW
:  Even though you started here in the Midwest, you've wrestled around the world. What's the most unusual international wrestling experience you've had?
COLT
:  I have two full passports filled with some of the weirdest stamps. I wrestle all over Japan, Australia, Europe and more. I've wrestled on the drug-lined border towns of Mexico and I've even been to the Philippines. The most bizarre tour I've ever done though is of Iqaluit, Canada, which is the most northern Province in Canada. At the time there was 23 hours of sunlight and it was full of 90% Inuit population.
VFW
:  Your podcast 
The Art of Wrestling
is a big hit with wrestling fans, and you've even branched out into other entertainment ventures like stand-up comedy. What keeps drawing you back to climbing in the ring?
COLT
:  Wrestling is my true love. It's what I'm best at. Pro Wrestling is what I've dedicated my complete adult life to. I feel I have a great grasp of it and there's no reason for me to dump that for some other venture. My goal is to bring other ventures into the world of wrestling like I'm doing with different aspects of comedy.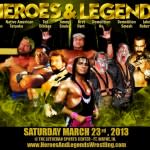 VFW
:  On March 23, you're going to enter the ring for a unique event in Fort Wayne. Heroes & Legends is happening at the Lutheran Health Sportscenter. What and who can wrestling fans expect to see at this exciting event?
COLT
:  This is actually a very big deal. Wrestling conventions have been very successful for years on the East Coast. For some reason they don't seem to come to the Midwest too often. This is one of the biggest and best. Some of the coolest names from Demolition to Bret Hart to Jake the Snake Roberts and more will be on hand to sign autographs and talk to the fans. If you have just a hint of wrestling fandom in you, you'd be an idiot not to make it.
VFW
:  The Legends coming to Fort Wayne for this event are huge. Like we've said, you've been at this for a while, but are there any names that still make you a little starstruck?
COLT
:  Not really at this point. I've basically met them all, from Vince McMahon to HHH to Dusty Rhodes. CM Punk slept on my couch for a year. I won't be starstruck, but I'm sure the people of Fort Wayne will be and that's what makes it cool.
VFW
:  Colt, thanks again for chatting with us. We can't wait to see you and the rest of the Heroes & Legends on March 23. Where can our readers find out more about Colt Cabana?
COLT
:  I have a weekly Podcast where I talk to ALL the stars of wrestling very casually called The Art of Wrestling at 
www.WeLoveColt.com
. I have a weekly YouTube series called "WORST PROMO EVER". I have all my cool wrestling merchandise for sale, including a documentary featuring myself and WWE Superstar Daniel Bryan, at 
www.COLTMERCH.com
, and I'm on Twitter @COLTCABANA.
***
You can cheer on Colt Cabana and many more of the biggest names in wrestling history on Saturday, March 23 at Heroes & Legends. It's happening at the Lutheran Health Sportscenter across from Glenbrook Commons, and you can learn more about the event at 
www.HeroesandLegendsWrestling.com
. Also, be sure to check out 
www.WeLoveColt.com
 to find out where else you can see Colt Cabana in the ring!