So it's hard to believe, but I've been blogging now for Visit Fort Wayne a little over a year. This is the first post I've written that's allowed me to revisit an event about which I've written already: Summit City Comic Con. (Read my original post
here
.) The convention returns to Fort Wayne for its third year on May 12, 2012, at the Grand Wayne Convention Center in downtown Fort Wayne. What's happened in the world of comics since last year's Summit City Comic Con? Well, Marvel's Summer 2011 event,
Fear Itself
, has come and gone, and we now find ourselves knee deep in the "next big thing,"
Avengers Vs. X-Men
. The DC relaunch is in full swing, with most books on their ninth issues. While some of the original 52 series have been canceled, we recently saw the launch of several "Wave 2" titles, including one  I'm really excited about,
Earth 2.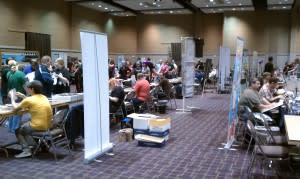 As usual, there will be all sorts of talented comic-type folks for you to meet. I'm psyched that Gabriel Hardman, who's recently done some killer work on
Secret Avengers
, will be there. Check out
www.summitcitycomiccon.com
for a list of artists like Hardman whose commissioned sketches can be pre-ordered. Want to read something but aren't sure what? Here are some books to look out for at the show:
Daredevil
, all of Marvel's "Ultimate" line (
X-Men
,
Spider-Man
, and
Ultimates
), 
Batman
,
Aquaman
(yes, Aquaman!),
Swamp Thing
, and
Animal Man
. Now, these are all titles published by the "Big Two" – Marvel and DC. If you're looking for something a little different, try some of my favorite indie titles like
The Walking Dead
,
Mouse Guard
, and
Saga
. If you're new to the world of comics or a longtime fan, Summit City Comic Con has something for you. Tickets are $10 in advance or on the day of the show, with admission for kids under 12 free with the purchase of an adult ticket. Visit them
online
for more information.