Growing up in Northern Minnesota, curling wasn't foreign to me but it certainly wasn't second nature.  That is why I look forward  to having the opportunity to watch and learn more about the sport that grows in popularity with each Winter Olympics that passes.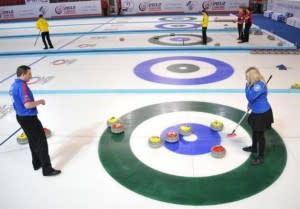 Fort Wayne will host the 3
rd
Annual Summerspiel August 17
th
- 19
th
at the Lutheran Health Sportscenter. For those who aren't fully aware of terms used in curling, "Bonspiel" is known as a curling tournament. Hence the term Summerspiel, curling tournament hosted in the summer. Due to the continued growth of hockey in Fort Wayne, it made it difficult to find ice time for the event during the winter months. Speaking of ice time, did you know that today's arena ice is not the original surface curlers played on? Curling was played a long ago on frozen ponds and lakes which are not smooth. Pebbles frozen into the ice surface created bumps which made it easier for the stone to move across the ice. If you're new to the sport and didn't realize the difference in ice surfaces or other terms and rules, this event will be a great opportunity to learn more. There will be documents at the event on the rules of curling and you can mingle with those who have been sweeping the stone towards the house for years. One important and exciting note are those who will be in attendance.  You will have the opportunity to see Olympians like Debbie McCormick as well as future Olympians and National players from the United States and Canada. Curlers enjoy promoting the sport and there will be many opportunities to mingle, take pictures and get autographs. The three day tournament will consist of 3 divisions, 20 teams in each division.  There is the 5 and under division, those who have played 5 years or less and the open division for anyone, both are $500 per team.  The Elite Tour Event is a cash prize tournament and per team cost $750. With the Summer Olympics ending, why not continue keeping the spirit alive by participating or watching the popular Winter Olympic sport of curling.