The Fort Wayne Museum of Art (aka FWMoA) is about to open its fourth annual "Summer of Glass" exhibit. Running from June 25 – September 11, the Summer of Glass will feature the works of David Salvadore, Albert Paley, and the winners of the International Glass Invitational Award competition.
Summer of Glass Shows
Here's how the exhibit will work: there will be three shows that are part of the Summer of Glass exhibition. There will be individual shows by Albert Paley and David Salvadore, and a separate, unique, show of the Glass International Award winners.
A 'show' means that there is a room dedicated to a particular artist or group of art pieces.
According to FWMoA President and CEO Charles Shepard, glass can be used as art in many ways. Perhaps you're familiar with 'glass blowing' – where glass is heated until it is molten, then dabbed on the end of a tube. A person blows on the non-glass end of the tube, to create a glass bubble which can be shaped into a vase, goblet, or something else creative. But glass art can also be made through casting (pouring liquid glass into a mold), and carving, to name a couple more methods.
The museum's exhibits will feature all different sorts of glass, manipulated in a variety of ways. Albert Paley's show will feature "Steel and Glass," an exciting contrast that Shepard appreciates for its juxtaposition of fluid glass with harsh metal forms. The Salvadore show will feature 'lute-shaped' glass in 'vivid colors.'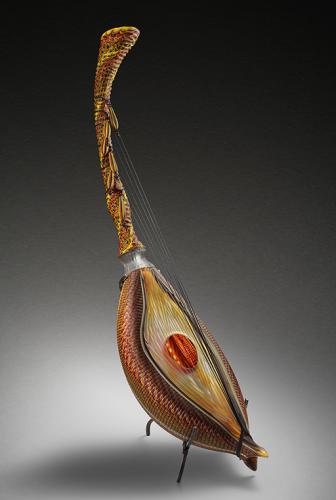 How do you get glass transported to a museum?
"That's quite a feat, to tell the truth," Shepard admitted. The Museum cooperates with professional art handlers, who have been working in the field for a number of years. The art handlers wrap and transport the glass pieces and get them to the museum. Because they have so much experience in the field, the art handlers who transport the glass "take the lead" in hauling the art pieces into the museum and shifting them around inside. Hauling glass works is a lot more difficult than simply transporting paintings, Shepard noted.
Explore 70 Different Pieces in the Summer of Glass Display
The Fort Wayne Museum of Art will have approximately 70 different pieces of glass artworks on display when the exhibit opens. As Shepard explained, there are many different kinds of art forms glass can take. Pieces can be as big as a kitchen table, or as tall as a person. "But I'll make you a guarantee," he said, "(this exhibit will have) all beautiful and vivid colors."