With three full-length albums, an EP, over half a million copies sold, performances on major television networks, and a new album on the way -
Straight No Chaser
has gone from Indiana favorite, to national success. And we are delighted to announce their upcoming concert at the Embassy Theatre, scheduled for December 18! (See below to learn how to get tickets before they go on sale April 30!)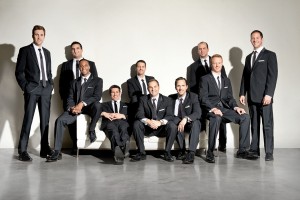 Founded in Bloomington at Indiana University in 1996, Straight No Chaser started out with the goal to expand the boundaries of the traditional college A Capella group. They viewed themselves as more of a local band that used their voices instead of instruments. In 1999, as founding members approached graduation, new members of the group were hand-picked by the exiting members, ensuring that the tradition they had created would continue on with with successive generations of IU undergrads. Then in 2006, everything changed. The members of the original Straight No Chaser group came together for a reunion show at Indiana University. In honor of the performance footage from a 1998 concert was posted online featuring their version of 12 Days of Christmas" with Toto's "Africa". the video quickly went viral - and became the must-see video of the holiday season. Among the millions who viewed the video was Atlantic Records Chairman/CEO Craig Kallman, who tracked Straight No Chaser Down and promptly signed them to the label. The rest is history.
Straight No Chaser has been featured on ABC World News Tonight, HLN and Today, among many others and will even be headed to the big screen in an upcoming movie by Dreamworks! They are highly regarded for their great live performances, especially in a time when so much pop music is the product of digital processing and vocal pro-tooling. The captivating sound of ten unadulterated voices coming together to make extraordinary music that is moving people in a fundamental sense, and with a bit of humor, is refreshing and reinventing the idea of A Capella on the modern pop landscape. With roots in Indiana, Straight No Chaser is definitely a Hoosier favorite. This Christmas season the group will be returning to Indiana for 7 shows throughout the state right before Christmas! You can even catch them in Fort Wayne on Wednesday, December 18, at the Embassy Theatre! They will also be playing shows in South Bend and Evansville leading up to four shows in Indianapolis.  If you can't wait until then to hear Straight No Chaser's smooth vocals, you can buy their new album, "Under the Influence", on May 7.
In addition, we are offering a special pre-sale link for friends Visit Fort Wayne! (Buy tickets before they are on sale!) Simply click here: http://www.ticketmaster.com/event/05004A89E46CDF1E and use the password "summit" - this exclusive presale is only available April 26 through April 29!
After that date you can order tickets through the Embassy Theatre
website
and
Ticketmaster
.