The explosion of
Pitch Perfect
as one of the top-grossing movies of its season put a cappella music back on the map. While I'm sure we all love listening to the Bellas belt it out during the movie, it's even better seeing and hearing groups perform in person. Don't miss your chance to see one of the best a cappella groups in the country,
Straight No Chaser
, at Fort Wayne's historic
Embassy Theatre
when they travel here December 16.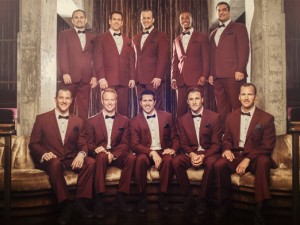 Straight No Chaser is not your stereotypical a cappella group of college males singing outdated tunes in suit jackets and khaki pants. This talented group of men sing a variety of songs from covers of Adele and Ed Sheeran to songs with contributions from Phil Collins and Dolly Parton. The voices of these 10 men combine to create amazing vocal achievements that sound as if they are made by an orchestra of instruments and a choir of singers. Their US and UK tour, Happy Hour, comes right after the release of their latest album, "Under the Influence." This latest album features a number of holiday songs too, to put you in the mood of the season! While you are in downtown Fort Wayne, make an evening of it! Stop by one of the local restaurants before the show. Calhoun Street Soups, Salads, and Spirits is just down the road from the Embassy. And even though it might be cold, it would be a great evening to see the Christmas lights that will be up around downtown. Straight No Chaser begins at 7:30 so there will be plenty of time for dinner before and it will be dark enough when you leave to enjoy the holiday season! And, you can win tickets to the show
here
!