Originally formed over a dozen years ago while they were students together at Indiana University, Straight No Chaser has reassembled and reemerged as a phenomenon. They will return to their "home state" on October 30, for one performance only, at the Allen County War Memorial Coliseum in Fort Wayne.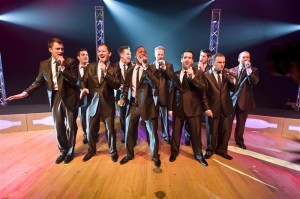 SNC boasts a massive fanbase, over 20 million views on YouTube, numerous national TV appearances, and proven success with two holiday releases, 2008's HOLIDAY SPIRITS and 2009's CHRISTMAS CHEERS. In an era when so much pop music is the product of digital processing and vocal pro-tooling, Straight No Chaser is the real deal – the captivating sound of ten unadulterated human voices coming together to make extraordinary music that is moving people in a fundamental sense… and with a sense of humor. Filled with sophisticated harmonies and uniquely stylized arrangements, their latest record, WITH A TWIST,  is a different, well, twist, on what SNC does best. The group members are thrilled to be displaying a different side of their unparalleled vocal mastery.
"It's definitely my favorite collection of songs we've recorded so far,"
says Dan Ponce, who organized SNC during the fall of 1996 at Indiana University in Bloomington. Fort Wayne's performance is one of only three cities on their fall tour to be selected to host a 
Platinum Dinner Package.
Fans will have the chance  to enjoy a dinner and a small, private show from the band prior to full performance. Each SNC Platinum Dinner Package includes:
Exclusive early entrance into the venue, with VIP laminate
Backstage special dinner at the venue with a menu featuring SNC's favorite meals
A special welcome from SNC at the dinner, with a 2-song performance of songs notincluded in the show
(1) prime floor seat for the show.
Tickets for the Straight No Chaser performance at the Memorial Coliseum are on sale now at the Memorial Coliseum Ticket Office, all Ticketmaster outlets, online at
www.ticketmaster.com
or charge-by-phone at 800-745-3000. For more information, visit us
online
.