The Foellinger Theatre continues to bring the best Rock and Roll music of the past to the Fort Wayne community. On July 14, Starship will appear in concert at 8:00 p.m.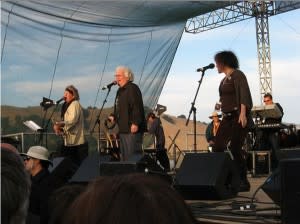 Starship was not the band's original name. The group began in the 1960s when, as Jefferson Airplane, it debuted on August 13, 1965, at the Matrix nightclub in San Francisco. Original members were Signe Anderson (replaced in 1966 by Grace Slick; vocals), Marty Balin (vocals and guitar), Paul Kantner (vocals and guitar), Jorma Kaukonen (guitar), Jack Casady (bass), and Spencer Dryden (drums). By 1969 the group had headlined at Woodstock, Atlantic City Pop Festival and dozens of other venues, establishing itself as one of rock's top groups. Their song, White Rabbit, became a platinum seller. By the time Mickey Thomas joined the group in the 1970s, they had changed their name to Jefferson Starship. Later, they became simply Starship. No matter the moniker, these musicians still knew how to put hits together. 'Jane,' 'No Way Out,' 'We Built this City,' 'Sara,' 'Nothing Gonna Stop Us Now' were – and still are – showstoppers. The show starts at 8:00 p.m. Tickets are $20 and $25.00.
Foellinger Theatre
is located in Franke Park next to the Children's Zoo on Sherman Blvd. For more information, call the box office at  260.427.6715 (Summer only).