Since it began a few years ago, Downtown Fort Wayne's trolley shopping events have been a huge hit! From Holley Trolley Shopping during the holiday season, to Spring Trolley Shopping, people are flocking to participate and discover the local stores, eateries and businesses that reside in our great downtown area.This year Spring Trolley Shopping returns in conjunction with the second annual Kickstart Festival on Saturday, May 16th!
This year's Spring Trolley Shopping event features a variety of great places to check out. This is a perfect opportunity to do some shopping, while hopefully discovering some great local businesses you may not have known about! Each season that Trolley Shopping comes around I am blown away by the amount of local shops, food spots and businesses that I am still finding out about! So many of these places are truly hidden gems, and I can guarantee you'll find something unique at a place you'll be going back to for years to come!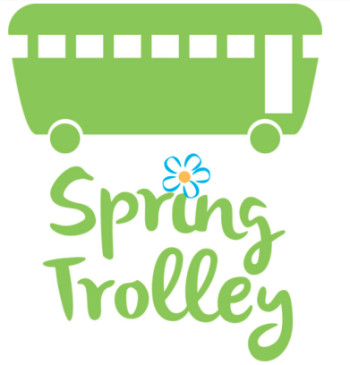 Here are all of the participating businesses, as well as the various trolley stops along the route:
Stop 1: SW corner of Barr and Wayne
YLNI Barr Street Market (9am-1pm), Cottage Flowers, History Center (12am-5pm), Black Anvil Tattoo and Cathedral Book and Gifts

Stop 2: Museum of Art parking lot
KickStart Festival, Fort4Fitness Spring Cycle (9am - 1pm), FairyTale Fest, KickStart4Kids, Fort Wayne Museum of Art & Paradigm Gallery, 3R Gallery, Artlink (12pm-6pm), Pembroke Bakery and Main Street Bistro

Stop 3: Barr Street North (Headwaters Park)
The Old Fort: Muster on the St. Mary's, Headwaters Park & Hamilton Sculpture Garden, Club Soda (11am-2pm), Don Hall's Gas House (11am-midnight), The Deck (11am-midnight)

Stop 4: Columbia St. on The Landing
Bourbon Street Hideaway, B&B Loan, Riegels Pipe & Tobacco, Central City Café, Coney Island, Cindy's Diner and Stoner's Fun Store - free magic shows (10-2)

Stop 5: NE corner Broadway & Berry
Saving Grace Vintage, Sharon's House of Antiques (12pm-5pm), Urban Hippie, Beet Street Juicery, Viva Vintage 4 U (11am-4pm)

Stop 6: SE corner of Wayne and Fulton
Friends of the Third World Gift Shop, Emiley's Haute Cottage, Sunny Schick Camera Shop, EyePix Studio

Stop 7: NW corner of Jefferson and Fulton
House of Furniture, Antiques on Broadway, Knitting Off Broadway (11-3), Aaron's Oriental Rugs, Pure Movement Pilates Studio

Stop 8: NE Corner of Brackenridge and Ewing
The Orchard - TinCaps gift shop, Rudy's Wine Chocolate and Cigars Shop (11am-10pm), The Woodshack, Relay 4 Life

Stop 9: Parkview Field (Jefferson Blvd.)
Fort Wayne Farmer's Market, Appleseed Comic Con, O'Reilly's Irish Pub (11am-3am), Champions Sports Bar (11am-12am), 1020 Bistro, The Botanical Conservatory, Bagel Station, Embassy Theatre, King Gyro's (11am), Allen County Public Library & Twice Sold Tales, Cherry Blossom Festival, Firefighter's Museum, Powers Hamburgers

Stop 10: SE corner of Wayne and Calhoun
Jimmy John's (11am-9pm), Your Virgin Hair, Fortezza, Dash In, Pint 'n' Slice (11am-10pm), Creative Women of the World (12pm-4pm), Spring Pop at the City Exchange, Toscani Pizzaria (10am-5pm), JK O'Donnell's (11am-12am), Double Dragon, Visit Fort Wayne
Not only will these businesses be open to the public during Spring Trolley Shopping, many of them will also be offering specials deals, discounts and giveaways throughout the day! For more information on the Spring Trolley visit the Downtown Improvement District website or Visit Fort Wayne. Happy shopping!