Spooky season has arrived in Fort Wayne, Indiana! Do you love a good ghost story? Are you a self-proclaimed horror nerd? Read on, if you dare, to see how Fort Wayne is turning up the scare factor this October. 
Before we begin, please note that some events below may not be suitable for all ages. 
Can't-Miss Fort Wayne Events for Horror Lovers
Fireside Tales of Terror
You wanted a ghost story? A ghost story you shall receive! Gather 'round the fire with local paranormal investigators, the Original ParaSisters, and hear some of their most chilling stories from around Fort Wayne. Beware: The October 22 event will feature some of their most terrifying and extreme stories of all. Details
October 1, 8, 22, 29 / Promenade Park Plaza
Psycho with a Live Orchestra
A classic thriller just in time for Halloween. Catch a screening of Alfred Hitchcock's Psycho accompanied by the Fort Wayne Philharmonic performing the score live — adding a whole new level of tension and drama! Details
October 29 / Auer Performance Hall at Purdue Fort Wayne
The Haunting of Hill House
Whether you've read the book, seen the movie, binged the series on Netflix, or just love a great supernatural horror story, this live stage performance of The Haunting of Hill House is sure to send chills down your spine. An isolated mansion with a morbid history. An investigator of the supernatural phenomena. And a group of visitors attempting to uncover the dark forces within the home. What could go wrong? Details
October 15-16, 22-24, 29-30 / Arena Dinner Theatre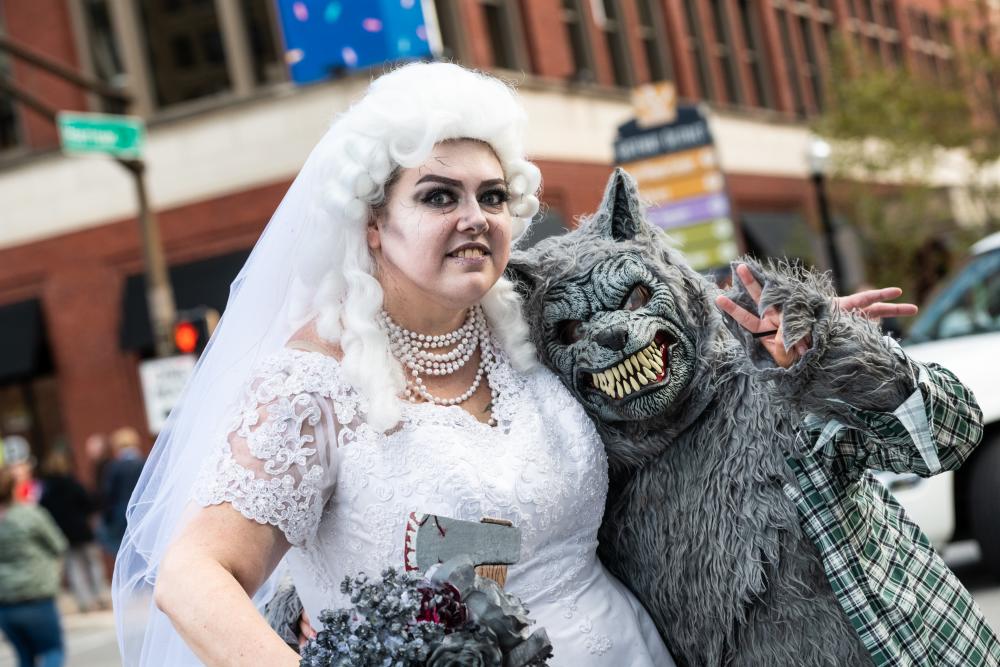 Fright Night
October 16
It's a night when ghosts and goblins are free to roam the streets of Fort Wayne! Fright Night offers a day full of all-ages Halloween activities downtown, but some events are especially scary. You'll want to break out your costume for the main event: The Zombie Walk! It's a literal parade of monsters weaving through downtown.
Additional Fright Night events in the horror genre include:
Murder! Mystery! Mayhem! Walking Tours — Not for the faint of heart. Discover Fort Wayne's dark and bloody past in the streets we now know as downtown.
Walk with the Spirits of the Past — With a neighborhood as old and historic as West Central, you know there are plenty of great ghost stories to go around. Walk and listen...if you dare! 
A Night in the Old City Jail — Step back in time at The History Center, the Old City Hall, and try not to get chills when you visit the old jail cells. Are you brave enough to enter?
Rocky Horror Picture Show — Celebrate the time warp and catch this participatory cult classic, shown on the outdoor Terrace at the Botanical Conservatory!
See the full list of events in the Fright Night Survival Guide.
DeadCon: Horror & Paranormal Convention
Meet celebrities and paranormal investigators from your favorite horror films and shows at DeadCon in Fort Wayne! Special guests include Danny Trejo, William Forsythe, Billy Zane, and many more from films like Friday the 13th, Halloween, The Exorcist, Texas Chainsaw Massacre, and more. Participate in events throughout the weekend including a Masquerade Ball, celebrity-led ghost hunts, special performances, a film fest, and several celebrity panels. Details
October 15-17 / Grand Wayne Convention Center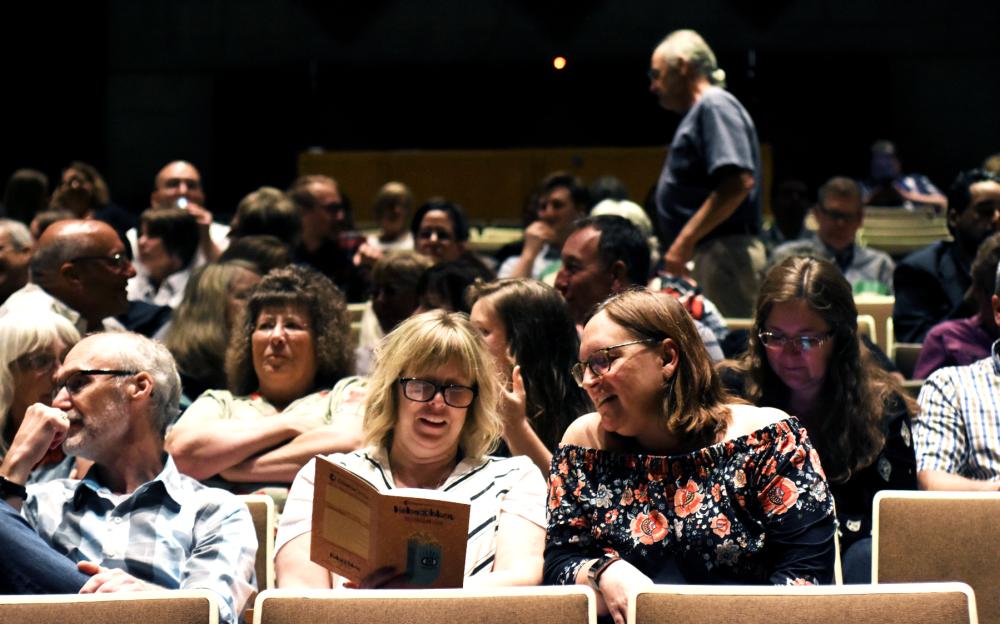 Hobnobben Film Festival – Saturday Night
The 6th annual Hobnobben Film Festival is a must for film lovers of any genre, and features unique and diverse storytellers. Since the festival coincides with Fright Night, the organizers couldn't NOT throw in some spooky bits. On Saturday, October 16, the two evening sessions will feature a handful of short films sure to satisfy your horror cravings.
8:45pm-9:45pm — Dark & Twisty & Pretty Fun: Fright Night Edition — Prepare to jump in your chair! This block of short films promises some spooks with lots of fun.
10pm-11:15pm — Fearing the Unknown — A collection of six dark, psychological short films for anyone who loves thrillers and suspense!
Hobnobben Tickets
October 15-17 (Fright Night features happening on Saturday, October 16) / Embassy Theatre

Haunted Neighborhood Tours
Hear spooky tales of paranormal activity on these guided walking tours through some of Fort Wayne's historic and (possibly) haunted neighborhoods!
Haunted West Central | October 9 and 28 — One of the most popular tours takes you through beautiful, historic West Central. Between the amazing homes and architecture, chilling tales of a Lady in White and other haunted happenings arise.
Haunted Nebraska | October 14 — Meet outside the Redwood Inn and embark on a tour featuring stories of the Nebraska Spook, suspicious deaths, and more.
Haunted Lakeside | October 21 — Bloody battles, sweet-smelling ghosts, and a hint of Stephen King await on this tour through historic Lakeside.
Haunted Wells Street | October 23 — This morning tour of the Wells Street area includes stories of a shouting ghost, even a crying ghost, and plenty of additional mystery.
Guided Full Moon Paddle
Join Fort Wayne Outfitters for a potentially spooky guided kayak trip on the river! Maybe not your classic horror event, but who doesn't love a crisp evening paddle with friends? Reserve your spot.
October 20 / Depart from Promenade Park
MORE: Find more fall frights with Fort Wayne's escape rooms and haunted houses! See the guide.