Welcome to the historic Wells Street Corridor! Park the car and spend the day weaving in and out of charming boutiques and shops, then relax and refuel at any of the delicious and diverse dining options.
Guide to the Wells Street Corridor in Fort Wayne
Dining
Start your journey through the corridor at the Corner of State and Well's Street with Tom's Donuts. Tom's is a locally owned franchise that has been in Fort Wayne since the 80s. When you walk in, you'll notice not much has changed since their opening, including their quality recipe and warm hospitality. Grab a dozen and enjoy a classic glazed donut or apple fritter!
Across the street is Clara's Pizza King, known for their stained glass windows, hanging porch swings, and phone to order their famous square-cut pizza.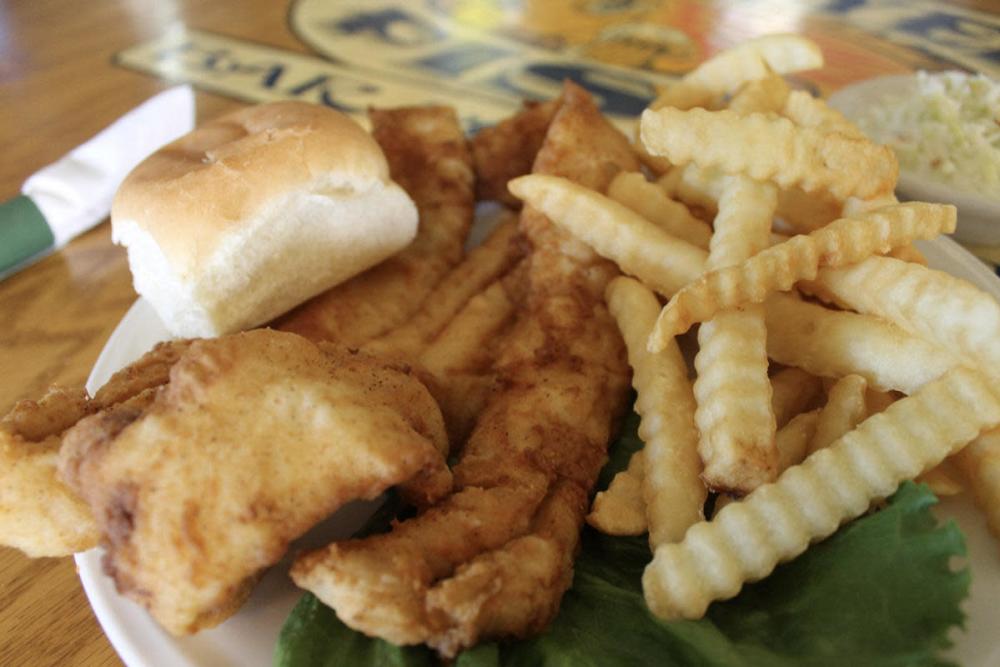 Pictured: Fried Fish and Fries from Big Eyed Fish 
Further down the corridor, you'll find a variety of food to satisfy every craving. The Original Big Eyed Fish calls Wells Street home, and was voted the best fish in Fort Wayne! Don Chava's serves diners a refreshing Margarita and delicious Mexican food, with outdoor seating available as well.
El Rinconcito Pupuseria is one of the few places in Fort Wayne that serves authentic El Salvadoran food. Locals rave about the Pupusa, a flatbread type bread cooked over a griddle and filled with your choice of meats or cheeses and Asada Tacos. 
Klemm's Kafe has been serving up classic breakfast staples since 1985 and has yet to disappoint.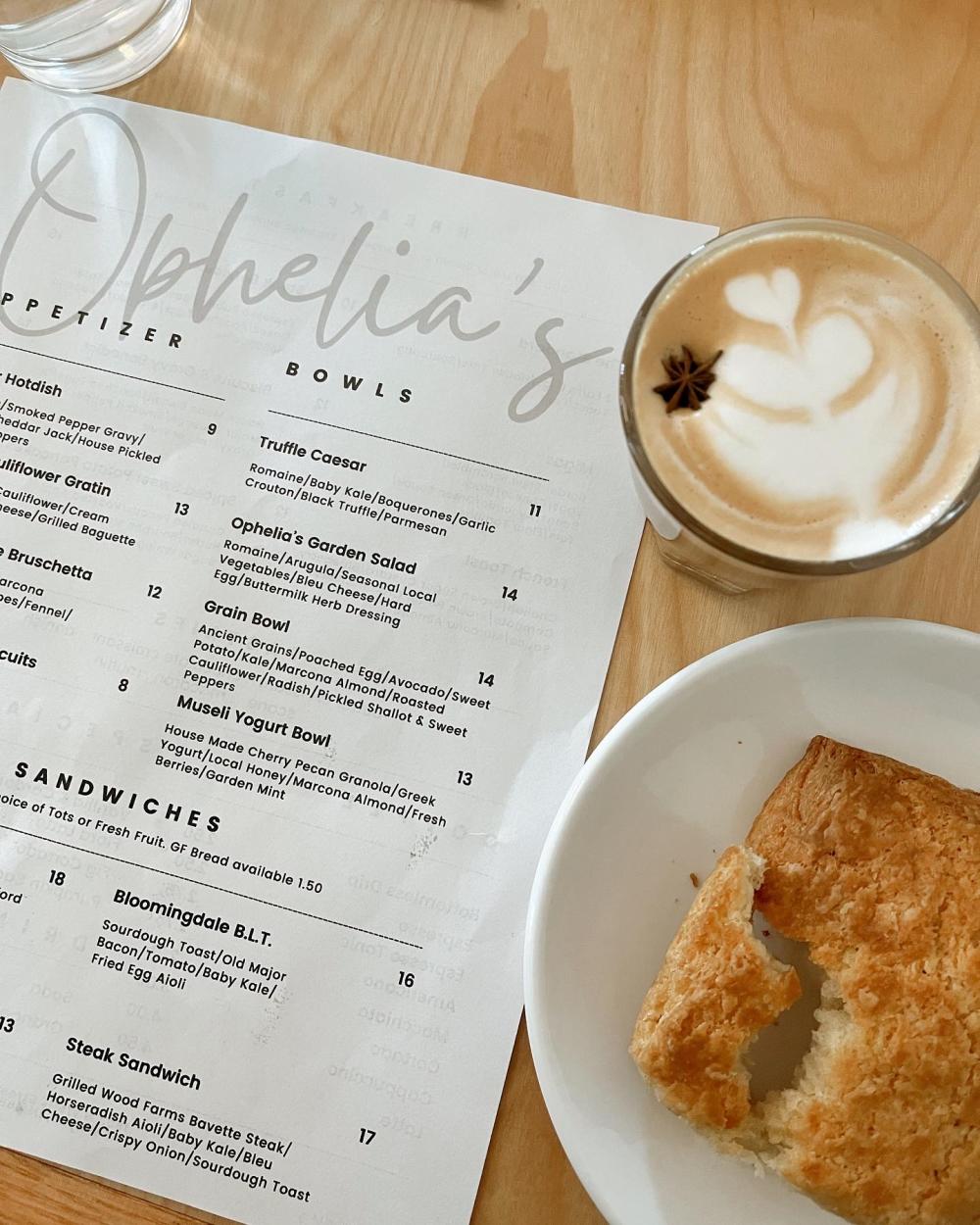 Pictured: Ophelia's Menu, homemade biscuit and Fig Cortado 
The newest addition to the corridor is Ophelia's, a whimsical cafe serving up craft coffees, perfectly paired cocktails, and a mouth-watering brunch menu. Locals love the Hoosier Hotdish (the cheesiest, crunchiest tater tots), Steak Benedict and Spiced Sweet Potato Pancakes!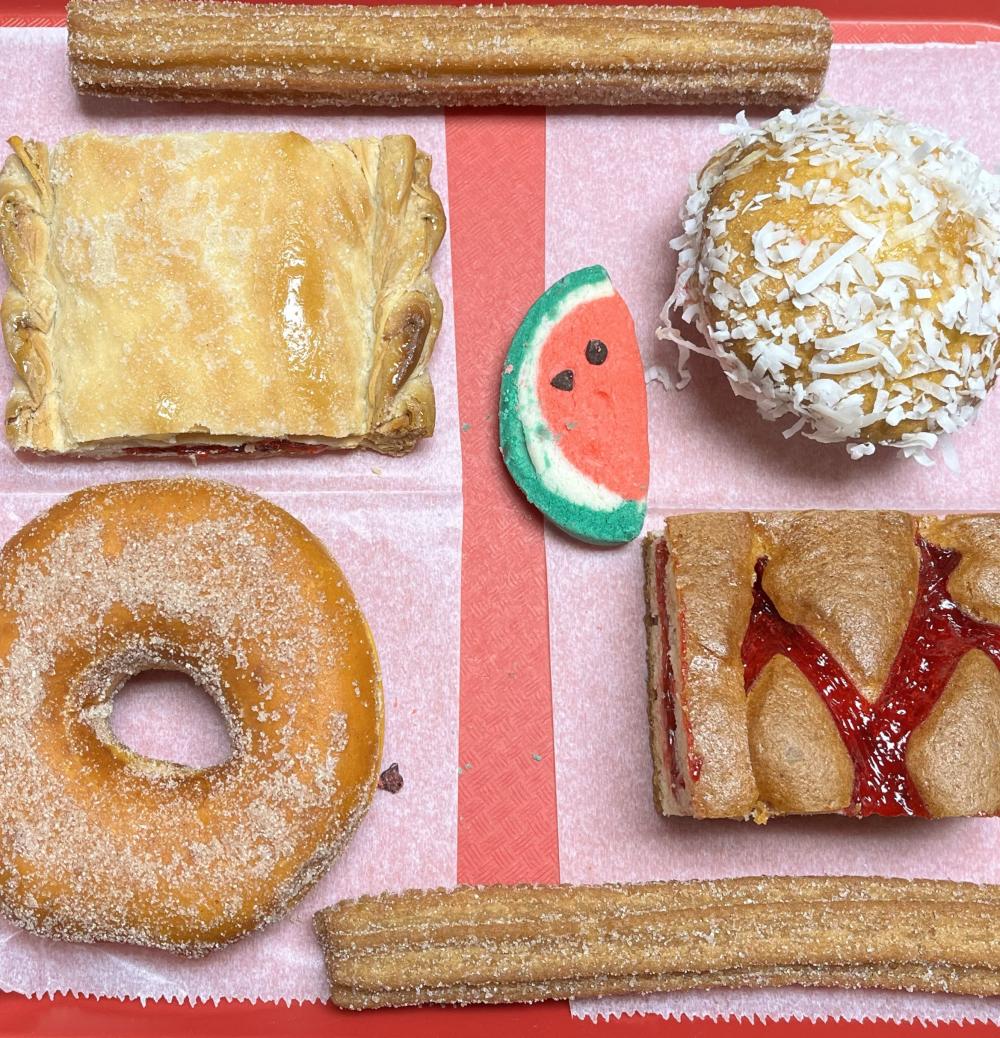 Pictured: Pastry tray from Indiana Mexican Bakery 
Prepare to have your sweet tooth satisfied at the Indiana Mexican Bakery. Grab a tray and some tongs and wander the isles of authentic, freshly baked cookies, cakes, breads and pastries. Be sure to buy a few Churros and some Jalapeño Popper Bread for the drive home! Still not satisfied? La Michoacana next door has an array of frozen treats and ice cream flavors you can't find anywhere else in town! 
Shopping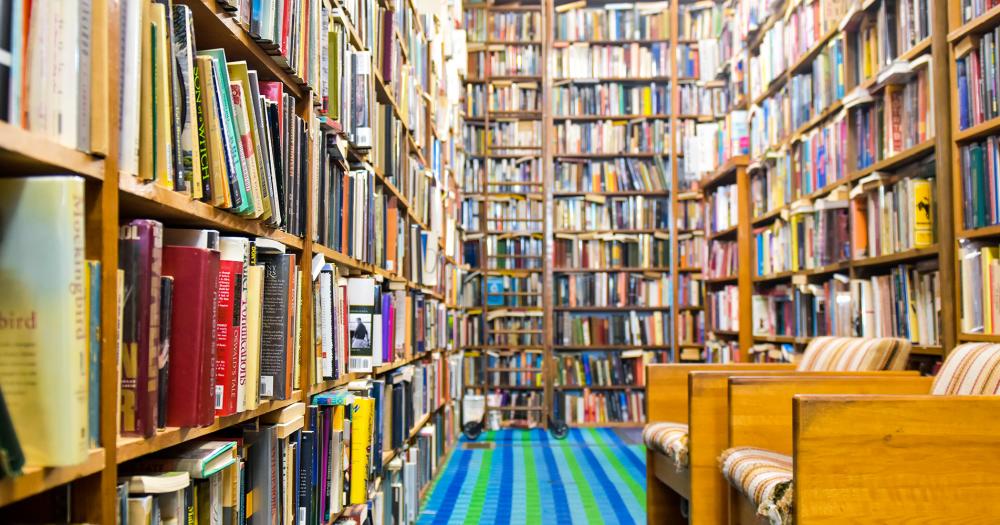 Pictured: Hyde Brothers Booksellers
Grab a book and cozy up at Indiana's Best-Loved Bookstore.  "With a fondness for the odd and obscure," Hyde Brothers has over 150,000 books spread over two stories. Don't forget to pet the cats while you're there!
The cozy yellow building next door belongs to Cog and Pearl, a one-of-a-kind boutique selling hand-crafted jewelry, indoor/outdoor decor, and other trinkets. A quick walk north will take you to Hidden Treasures Antique Shop. There you will find furniture, home goods, and pieces sure to invoke nostalgia!
Looking to add something new to your wardrobe? Stop inside Monarch Beauty Boutique or Meraki Co. for the latest styles for you, your home, or your littles!
Honey Plant is an oasis for the indoor plant lover. This botanical boutique offers plants of all shapes, sizes, and colors, even rare and exotic varieties. New to plant parenthood? Do not fear, the plant experts will make sure you go home with all of the knowledge and supplies to help your new plant thrive!
Things to do: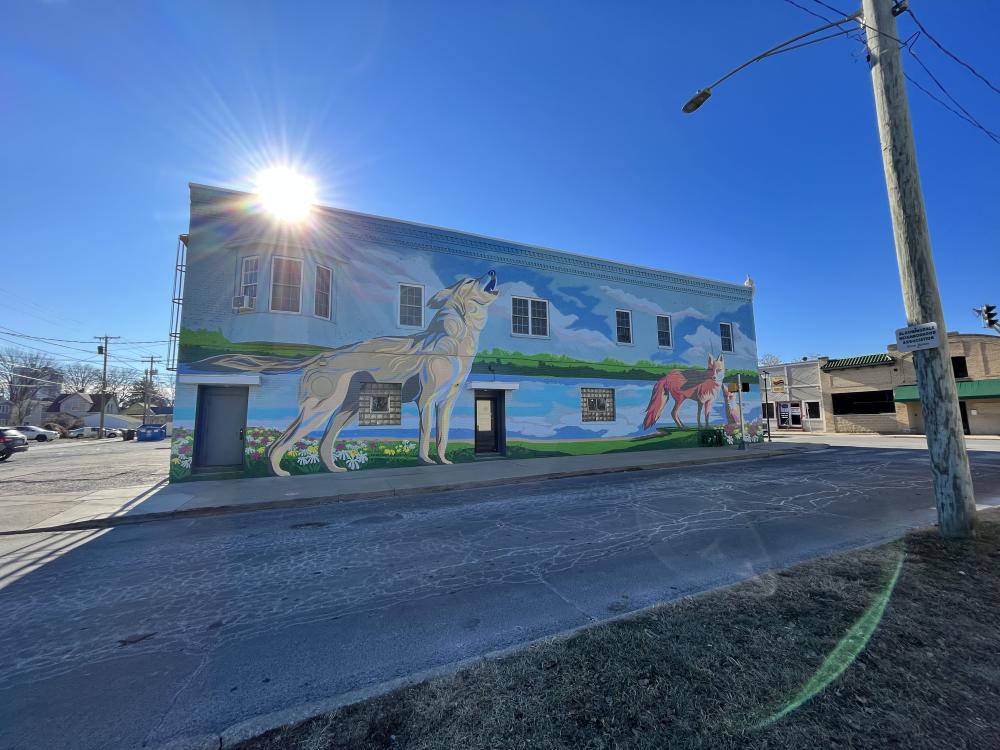 Find some of the city's most beautiful murals along the Wells Street Corridor! This mural is located on the side of Honey Plant's building, but is not the only mural you'll see on Wells Street. Be on the lookout for a mural depicting the city's rich history and other colorful pieces throughout! Find them all on the Fort Wayne Public Art Trail.
Start your journey down the river at Fort Wayne Outfitters and Bike Depot. Join a boat tour, schedule a paddle trip, or rent your own gear and let the fun begin! Not interested in renting? Walk the Rivergreenway and explore some of the city's beautiful parks and outdoor attractions!
Just across the Wells Street Bridge is Promenade Park, Fort Wayne's newest Riverfront development. Catch a concert by the water, grab a drink at the Trubble Riverside Cafe, or take the kiddos to the PNC Playground. There is truly something for everyone!