Here comes the sun! Catch some rays for a good cause at Sol Fest May 5-6. Sol Fest is a two-day music festival at Fox Island County Park usually held the first weekend of May each year. It is a celebration of the Sun (solstice)! The event began as an anniversary celebration of 25 years of nature education at Fox Island County Park and State Nature Preserve and the return of the summer season.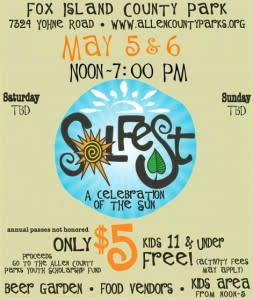 So, what can you do at Sol Fest? Here are a few options:
Music: Come sit in the sun and the grass and listen to some of the most talented artists in the area.
Beer Garden: Provided by the Mad Anthony Brewing Company – Enjoy some great brews, made right here in Allen County!
Kids Area: Open Noon to 5:00 PM both days- Planned  activities such as kids nature hikes, crafts, edible insects, animal demonstrations, and games.
Hayrides: Hop on the hay wagon and travel to different areas of the park for different activities.
Food: Enjoy some great food provided by local vendors and organizations.
Visit many local not for profit and local vendors booths, learn what they have to offer as well as learn to be "green."
Demonstrations: Canoe, kayak and bike demonstrations
Hiking: Take off on a hike throughout the 600 acres, 250 of which are dedicated State Nature Preserve. Climb a 40 foot high sand dune.
Dig for fossils
Visit the Nature Center and learn more their programs.
Relax:  Take a break from the hustle and the bustle, forget how cold it was in January and February.
One of the neat things about Sol Fest is the fact it benefits children. Most of the proceeds for the festival are designated for scholarships for schools who can't afford to visit Allen County Parks on field trips. It also helps send kids to day camps and provides environmental educational programming to organizations that assist disadvantaged kids. Sol Fest also allows our naturalists to travel to schools, local organizations, community centers, youth centers and youth detention centers. The other portion of the proceeds go back into putting on next year's festival. Hours are noon to 7:00 pm both days. The Kids Area is open noon to 5:00 pm. Cost is $5 per person; kids 11 and under are free. For more information, visit the Allen County Parks' website.