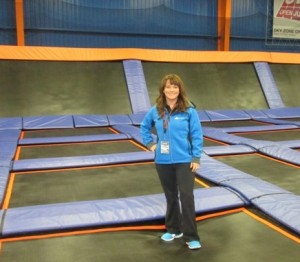 Sky Zone Indoor Trampoline Park recently made its indoor debut in Fort Wayne 401 Fernhill Avenue behind Glenbrook Square, featuring 25,000 square feet of bouncing recreation, according to general manager and co-owner Carrie Snyder.
The huge arena is filled with a variety of walled trampoline courts on which children and adults can indulge their playful side with a fast game of 3-D dodgeballor basketball (check out the SkySlam basketball dunk court), or give their muscles a powerful workout with SkyRobics fitness or on the Open Jump courts.There's even a Foam Zone – and no, it doesn't involve blowing the foam off your beer.To learn more about that intriguing activity, you'll just have to go out and see for yourself!
Be the most popular kid or parent in the neighborhood by holding birthday parties or other celebrations at Sky Zone. Your kids can even tie a long towel around their necks and pretend they're Superman as they fly high in the air, thanks to the huge bounce-ability of their surroundings.They can soar much higher than Kobe Bryant on the walled basketball court and simply drop the ball through the net from high above!Whee!
As for SkyRobics, according to the Sky Zone website, you can, "burn up to 1,000 calories an hour" on these trampolines, using these low-impact combos of "advanced calisthenics, core exercises and strength-building aerobics."  So, come in for a workout that is a lot of fun as well as gratifyingly intense.
And you've probably enviously witnessed the stunts and aerobics performed by professional skateboarder and snowboarder Shaun White – you can do the same thing at Sky Zone.Leap high in the air and do multiple aerial somersaults so you can give White some competition next time the Olympics rolls around.
Court monitors will patrol the area, after having given a speech on safety before one gets on the trampoline.Waivers must be signed.There will be a concession stand and a parent observation room and three rooms for private events.
Finally, 80 part-time employees are already in place, and Sky Zone is still hiring, in case you're in the market for a fun job.Check it out and adopt the park's motto of "Have Fun, Fly Safe!"

WHAT:  Sky Zone Indoor Trampoline Park
WHERE:  401 Fernhill Avenue
WHEN:  Opens May 1, 2013.  Hours:  3-8 p.m. Tuesday-Thursday; noon to 9 p.m. Friday; 10 a.m. to 10 p.m. Saturday and 11 a.m. to 7 p.m. Sunday.  The park which is closed Mondays will extend its hours in the summer.
COST:  $10 for a 30-minute jump; $13 for an hour; $18 for 90 minutes and $20 for 2 hours.  Toddler Time:  $8.  A Super-Pass is a punch card of 10/60-minute jumps for only $120. Times can be reserved online, and a pair of shoes (available up to men's size 13) must be rented which are included in the price.  Folks with bigger feet can jump barefoot.
OTHER EVENTS:  SkyMania every Friday night 9 p.m. – 11 p.m. (ages 10-15) and SkyJam every Saturday night from 10 p.m. to midnight (ages 16+)
For more information you can visit the Sky Zone
website
, or
Visit Fort Wayne
.