We are in the middle of summer, and it's not too late for you to enjoy a vacation, getaway, or long weekend! Sometimes when you  take a family vacation, and it's over, you long for the joy you felt making the memories. Fear not, there is still a way to make some great memories. Soak up some time with your family with some of these 12 easy and fun activities! 
1. If you enjoyed making mud pies when you were younger, have a fun family outing and get a close up at the Botanical Conservatory with their monthly Family Close-Up Events. Happening on the last Saturdays of the month, explore the current Botanical Conservatory exhibit with interactive family activities and much more! 
2.  Find a Constellation at one of the Fort Wayne Astronomical Society Saturday night stargazing sessions. We have been very fortunate to have some very clear nights lately. Take advantage of it, google some simple ones to start like the Big Dipper or the Little Dipper and the North Star, then grab a blanket and head out on a Saturday night one hour after sunset at Jefferson Township Park.  
3.  Visit a Splash Pad. Fort Wayne has several very nice splash pads, but one, in particular, is a place called Taylor's Dream Boundless Playground located of North River Road, inside off Kreager Park.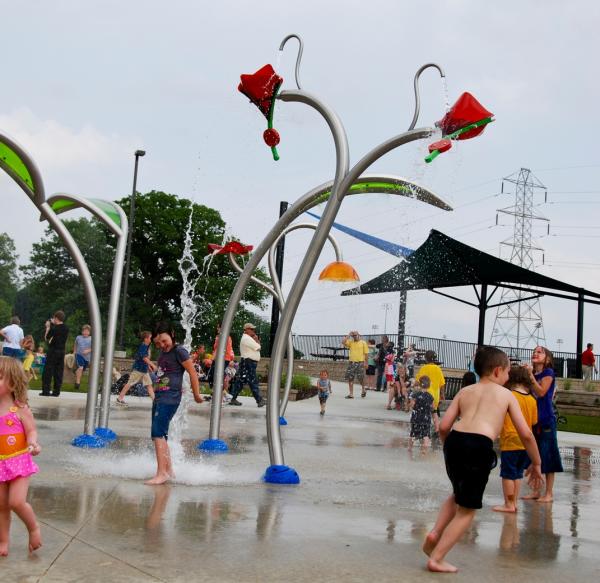 4.  Keep it simple and have a picnic. Slow the world down by sitting down and taking it in. There are some very beautiful parks in Fort Wayne. Go and have a picnic, and don't forget to stop and smell the flowers.
5.  Play hide and seek with glow in the dark tape. 
6.  Park the car, and go for a walk. Sometimes a change of scenery can really improve your mood.
7.  Go to the library. The Allen Count Allen County Library system is one of the best in the nation. Ranked as one of the top 10 libraries in the country.
8.  Have a bonfire and eat smores. Be creative, a family favorite for us is Reese Cups instead of Hershey's Bars. Or have a fun dinner at the Hoppy Gnome and get their smores dessert!
9.  Visit a food truck. You can find the food trucks all over town, and some of the food is quite unique. Or find a full variety of food trucks at Lunch on the Plaza every Thursday through August!
10.  Sidewalk chalk your neighborhood with positive things and beautiful images. Or you can even browse beautifully designs at the Three Rivers Festival Chalk Walk! 
11.  Have a scavenger hunt, and if you want to make it a little exciting, do it at night with glow in the dark objects.
12  Take a trip to the Fort Wayne Children's Zoo!  A must in Fort Wayne during the season. Especially with the new Australian Adventure, especially the Stingray exhibit, which allows you to get up close and personal.