Pull on your sweaters, bundle up with a cozy scarf, and pick the perfect chair for a night of sitting around a bonfire and roasting your favorite s'more in Fort Wayne, Indiana.
S'mores in Fort Wayne, Indiana
Hoppy Gnome
If you're visiting Fort Wayne and don't have access to a fire pit, make a stop at the Hoppy Gnome for their s'mores dessert. Build your favorite s'more over their tableside roasting pits with your friends or enjoy all of it on your own!
Kuehnert Dairy Fall Festival
Looking to enjoy a bonfire without having to remember all of the chocolate, graham crackers, firewood, skewers, etc.? Make your way to the Kuehnert Dairy Fall Festival for a bonfire for roasting marshmallow, and all of the fall festival fun including a corn maze, hayride, and more.
DeBrand Fine Chocolate
Indulge in decadence at any of the four DeBrand Fine Chocolates locations in Fort Wayne and order the s'mores. Think golden sugar cookies coated in DeBrand Fine Chocolates milk or dark chocolate, and some of the yummiest DeBrand Fine Chocolates marshmallows. When you order these mouthwatering desserts, they will be prepared for you to enjoy right away - no need to fire your own marshmallow and run the risk of dropping or burning your marshmallows over an open fire.
Johnny Appleseed Park and Campground
Book a campground spot at the Johnny Appleseed Park for the ultimate fall experience of camping, bonfires, and s'mores. Just don't forget to pack the s'mores supplies or do get all of your supplies in Fort Wayne for the perfect Fort Wayne s'more - more on that below.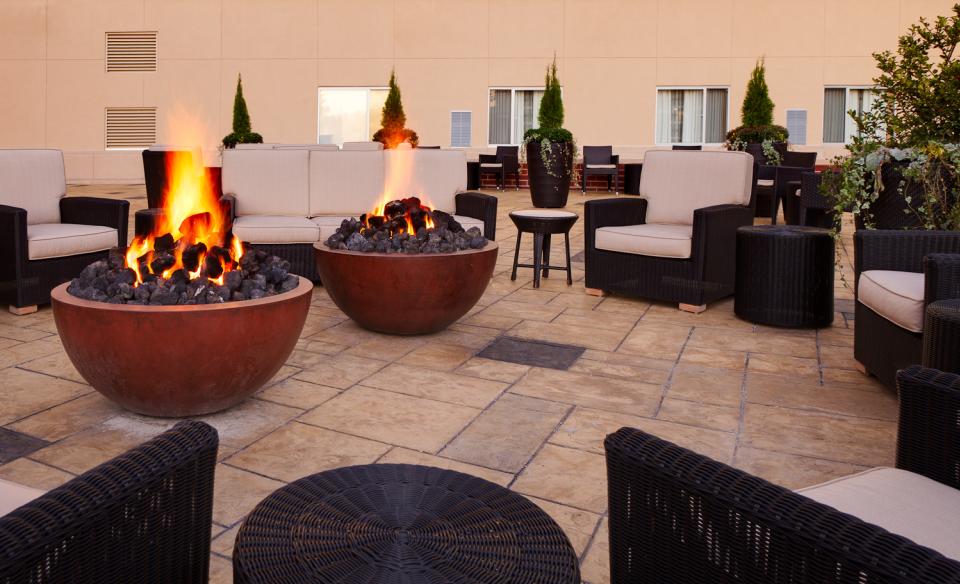 Courtyard by Marriott
And, if you're looking to just relax around and over flame pull up a seat at the Courtyard by Marriott's patio for their guests and enjoy their fire pits. 

*S'more may not be built on these fire pits, please consult the Courtyard staff.
The Fort Wayne, Indiana S'more
Now, we didn't want to write a post about enjoying s'mores in Fort Wayne without putting a little twist to the classic s'more. A twist that you won't regret trying!
For the perfect s'more we recommend indulging in a Fort Wayne s'more. All you need are your regular s'mores graham crackers and chocolate (if you need extra), DeBrand Fine Chocolates marshmallows, and a slice of a DeBrand Fine Chocolates Caramel Apple (only available in October).
It's the perfect tribute to Johnny Appleseed's heritage in Fort Wayne, and indulgence we couldn't resist!
What s'more could you ask for?
*This post was originally published October 2018 and has been updated and reformatted.