Snuggling down in my sleeping bag, I glanced up. Sharks – yes, real sharks -- swam a few feet above me. Nearby, children seem unconcerned about the creatures floating above them as they chat. The kids' parents keep watch while struggling to stay awake. It is almost midnight. We are part of a Sleep With the Sharks event at the Fort Wayne Children's Zoo. This overnight experience gives children ages 5 and over and accompanying adult a chance to sleep at the zoo and get a behind-the-scenes look at what goes on when the gates are closed and the stars come out. During the Sleep With the Sharks event, children go eye-to-eye with a shriek owl, touch a hermit crab, and stand next to a 550-lb. tortoise as he eats a large pan of food, including watermelon rind.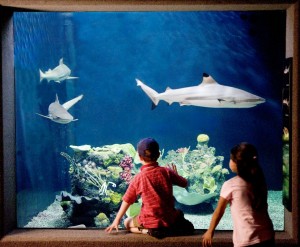 The 2012 Sleep With the Sharks nights are April 27, May 12 (Mother's Day weekend), September 14, October 6. Other overnight opportunities are available with the Group Wild Nights. Schedule an overnight trip with your family at the zoo. It will be a night you'll never forget! For more information about the Fort Wayne Children's Zoo you can visit them
online
. The zoo's season is April 21- October 14, 2012. Hours: 9 AM - 5 PM daily Fort Wayne Children's Zoo 3411 Sherman Blvd. Fort Wayne, Indiana 46808 260.427.6800 Cost for regular admission; Adults: $13.50 Kids (2-14): $8.50 Overnight events have a separate cost.