Everyone's favorite green ogre is coming to life in Shrek the Musical at Fort Wayne's Civic Theatre in just a few weeks, and this is a family-friendly event you won't want to miss!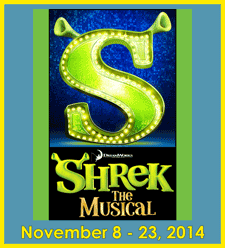 Shrek the Musical is a comical story about an ogre named Shrek who sets out to rescue Princess Fiona.  However, Fiona's parents and loyal attendants expect a prince – not an ogre – to rescue her, and hilarious chaos ensues.  Other character favorites from the Dreamworks movies, like Donkey and The Gingerbread Man, are sure to make Shrek the Musical an entertaining and memorable experience.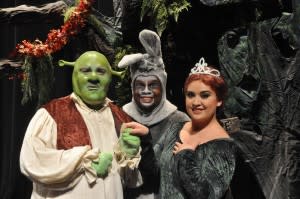 The actors and stage crew have been working hard but having fun at rehearsals.  Says director Doug King, "Every time we work through sections of the show, it seems like the scene we are working on is my new favorite part.  Until we get to the next scene and that one becomes my favorite!  I hope are audiences are challenged with my same burdensome problem." I'm a personal fan of both the Shrek movies and the Civic Theatre, so I can guarantee quality performances that will be engaging and fun! Performances: Saturday, Nov 8  2:00 PM Saturday, Nov 8  8:00 PM Sunday, Nov 9  2:00 PM Friday, Nov 14  8:00 PM Saturday, Nov 15  8:00 PM Sunday, Nov 16  2:00 PM Friday, Nov 21  8:00 PM Saturday, Nov 22  8:00 PM Sunday, Nov 23  2:00 PM The Civic Theatre is located in the Arts United building at 303 E. Main St. in downtown Fort Wayne.  Click here for the Civic Theatre's homepage and here for ticket information.  You can also visit the ArtsTix Community Box Office at 300 E. Main St. for tickets. 260-424-5220 Hours: Monday – Friday, 12:00 noon – 6:00 p.m. Saturday, 12:00 noon – 4:00 p.m.