If you're anything like me, you enjoy bringing back gifts from your travels. You won't leave empty-handed after a visit to Fort Wayne. If you're looking to find a memorable gift, look no further than this post. Here are a few Fort Wayne stores you should make a point to visit:
The Olive Twist: The Olive Twist, located in the Covington Plaza on Fort Wayne's southwest side is your go-to for a custom blend of olive oil and aged balsamic vinegar. Curious about the taste of a particular variety? Try a sample at their tasting bar, then create your own blend to discover a new world of flavor! Staff members will also be delighted to make suggestions and help you learn new ways to enjoy these age-old delicacies!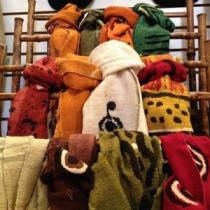 Our Daily Brew: As a self-proclaimed tea junkie, this place makes me feel like a kid in a candy shop. They carry a variety of coffee and tea sure to please any friend or relative. I recommend the loose leaf variety, as it makes for a more robust cup. The shop is also located on Fort Wayne's southwest side,  in Times Corner Plaza.
Hedgehog Press: Artist/shop owner Julie Wall Toles' creations are just plain adorable. At her shop, located at 1126 Columbia Ave., you'll find an assortment of artsy gifts. Think hand-crafted stationary, coasters and jewelry. She also offers workshops if you feel so inspired.
Creative Women of the World: If you're looking for a feel-good gift, CWoW is the place. They market original designs created by women living in developing countries.  For example, here you'll find jewelry designed by women rescued from slavery in Central Asia. Haitian primitive art, hand-embroidered frameable cards, and journals made from recycled cement bags all support artisans in Haiti as they continue to rebuild after the earthquake. The shop is located at 125 W. Wayne St., next to Irish pub JK O'Donnell's. Happy shopping!