With the World Cup long over, if you find yourself looking longingly for a little more soccer action, then you are in luck! The
Shindigz National Summer Soccer Festival
is back again! The 2014 festival will take place this weekend, August 21 - 23 at the
Fort Wayne Sport Club.
This year teams making the journey include the IU Hoosiers, Michigan State, Trine University, Xavier, Marquette, University of Washington, and more. In addition to the collegiate headliners, high school soccer players also get the chance to go head to head with other teams from the around the country. Both mens and womens teams will be playing at all levels.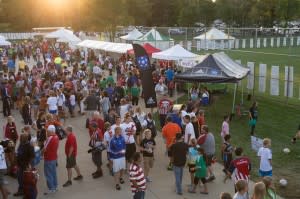 Shindigz started as just a small local dream nearly 14 years ago and has grown into a nationally recognized celebration of the sport. Terry Stefankiewicz was watching the NIT basketball tournament on television and felt it was about time that the sport of soccer had a similar competition for its athletes. Stefankiewicz was fortunate to have played for the legendary Hoosier head coach Jerry Yeagley and called him up for a hand in making his dream a reality. The pieces fell into place as he called other head coaches at national powerhouses like Michigan State and Notre Dame, and they agreed with his sentiment. The event's continued success is due in part to the impressive support of the community of Fort Wayne. Sponsors have been generous in their support of the festival and as a result it has grown into a real don't-miss event! Not only are there the classic soccer games, but the festival has evolved over the years to include games, giveaways, food vendors, a beer tent, and live entertainment. They also offer clinics as part of the event now, which provides young soccer players with a unique experience and chance to play with new faces while learning from the best. Presale tickets for the games are $7.00 for adults and $5.00 for high school and under. They can be purchased at any Walgreens, Connolly's Do It Best, or 800 Degree Pizza. At the gate they will be $10.00 for adults and $7.00 for high school and under. Check out the full
schedule
and pick the teams you want to see!