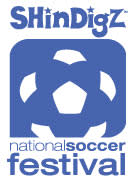 The smell of grilled hotdogs and fresh cut grass, the scoreboard in center field reads 0-0, and the spinning ball goes deep into the outfield towards the stands, but wait, physics decides to play a roll and the ball curves into the upper right corner of the net, "GOAL".  Now that my friends is, "Kickin' It At The Diamond." A premier soccer school with 7 NCAA Championships and 35 NCAA appearances, Indiana University will go toe to toe, literally, against a school with 14 NCAA appearances, Notre Dame. Soccer fans in the Fort Wayne area will not have to drive far to see two of the most beloved schools in the state play in the 3rd  Annual "Kickin' It At The Diamond," part of the Shindigz National Soccer Festival (SNSF) on April 21.Catch rivals Indiana University and Notre Dame take to the field! I can't imagine a better venue to watch exciting, aggressive, intricate play with a soccer ball then at Parkview Field. Known as the #1 Minor League ballpark experience as stated in "Stadium Journey," I have no doubt Parkview Field will provide the same experience for soccer fans that it does for baseball. The amazing atmosphere, not to mention that you can't find a bad seat in the house, have some suggesting the stadium rivals that of Major League stadiums.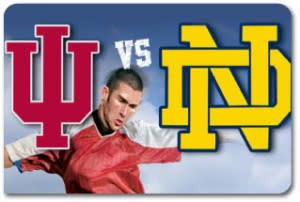 Not only is it family friendly with park-like seating, but the adults will enjoy $1 beer night, which is usually reserved for Thursday nights.  To add to the already exciting evening, Fort Wayne's very own Gunslinger will be playing their mixture of hard rock and country music as you make your way into the stadium. I think it is a given you will see great college soccer, but you will also get a chance to recognize the Fort Wayne area 2012 High School Soccer Champions in what is know as the "City of Champions," during halftime. But wait, that's not all, keep your ears attentive to a very big announcement concerning the SNSF coming in August to Hefner Field on the campus of Indiana-Purdue Fort Wayne University. The event starts at 6:30 p.m. but come early and listen to Gunslinger starting at 5:00 p.m. and be the first two-hundred spectators and receive the first of its kind, a SNSF "IU vs. ND" scarf.  Admission is $9 adults and $7 college age and younger.  Get your tickets at Parkview Field or the 5 Connolly "Do It Best" locations. Or learn more at
www.nationalsoccerfestival.com
.