Update: Visit the Fort Wayne Museum of Art page for the latest events.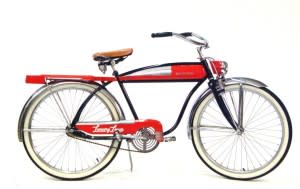 Ah...bikes. Is there anything more American? If you're anything like me, bikes are a source of wonder and excitement. Lucky for you, you can get the chance to get up close and personal with classic bikes, this spring. Feast your eyes on the 1952 Roadmaster at the Fort Wayne Museum of Art!

Rims and Fins: The Golden Age of American Bicycles kicked off April 16 at the Fort Wayne Museum of Art. Here you'll find a collection of classic bicycles of popular during the Boomer generation and chronicles the evolution of this dramatic shift in bicycle design. In other words, you'll see some pretty groovy design.
And the best part: admission is $1 on April 26th! This exhibition is presented in collaboration with the Bicycle Museum of America and the Hoosier Antique and Classic Bicycle Club. While you're at the museum, be sure to check out their permanent collection, which consists of nearly 1,400 American paintings, sculpture, drawings, prints and photographs, each telling stories of American history from the late eighteenth century through today. The museum continues to add to and diversify its collection, taking steps to significantly increase its holdings of photography, glass, and works of diverse media by diverse makers.
The gift shop is a must, too. Take home a hand-made gift from a local artist as souvenir. After an afternoon of taking in the beauty of these fine remnants of Americana, you'll likely have the urge to bike. You've come to the right place, my friend! Fort Wayne has one of the finest trail systems in the Midwest! If you're looking for a scenic route, I recommend the Rivergreenway. This is a 24-mile long trail that follows the banks of Fort Wayne's three rivers: the St. Marys, St. Joseph and Maumee Rivers. The Rivergreenway provides a great opportunity for recreation, fitness and conservation, as well as providing an alternative transportation network safely connecting the community.