The annual Butterfly Exhibit at Fort Wayne's Botanical Conservatory is always a treat. The big white tent houses a plethora of beautiful, fluttering insects in a light and airy environment.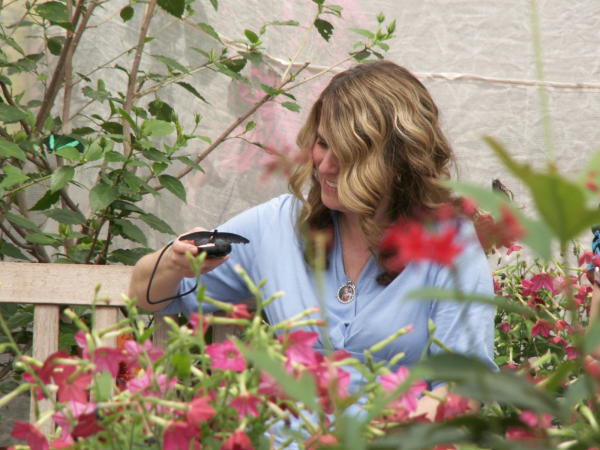 How to Enjoy the Butterflies at the Botanical Conservatory
Here are some tips for getting the most out of your visit!
1. Want to skip a waiting line? Avoid holidays. Mother's Day is wonderful – and very busy. Aim for a slower weekday or perhaps the early or late weekend hours.
2. Who can attend? The butterfly exhibit is bright, airy and very accessible. While strollers might pose too much of a butterfly stowaway risk, (some visitors park theirs outside the butterfly tent), scooters, walkers, and other mobility aids should have smooth flooring and wide enough doorways. Kids, grandparents, and everyone are welcome.
3. What to expect from docents: There are a couple who usher you inside and do a quick check as you leave. They're armed with butterfly nets and are very friendly.
4. What to expect from the butterflies: They flutter like animated confetti and sometimes land on you!
5. What if a butterfly lands on me? Act naturally. It will probably fly away quickly. Or, if you're wearing bright colors or have a strong perfume, it may stay and stretch its wings for several minutes. Enjoy the moment and snap a picture.
6. When are butterflies most active? When it is warm – like 80 degrees or higher. Something about the heat makes the butterflies very active, and they swoop all over the place.
7. Remember to bring a camera. Some visitors only bring a phone camera, and others haul out the big macro lens. Just use what you have; the butterflies are very photogenic.
There are screening areas where docents explain how to walk through and interact with the butterflies. There's an exit room, where you check to make sure you have no extra passengers.
It's amazing to watch how these little bugs like to blend in with a scarf or jacket. And sometimes, they make their own bid for freedom, charging through open doors at breathtaking speed! Docents keep an eye out for the fluttering flyaways and usually have them corralled in minutes.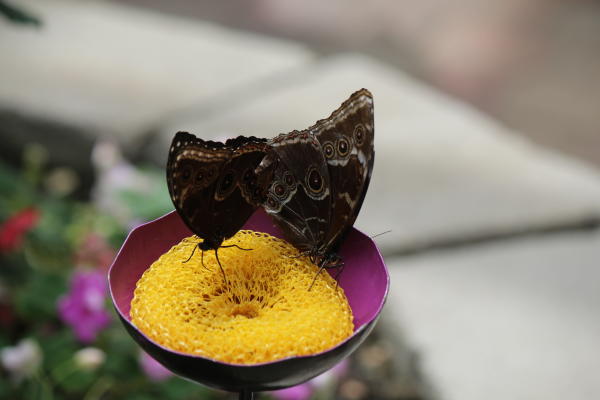 Butterflies having a snack
If you're visiting the butterflies at the Botanical Conservatory, take a few minutes to explore the rest of the gardens. There's the waterfall and tropical plants room, which has a wonderfully soothing vibe.
And then, there's the desert room with its artistic metal cutouts of coyotes and quail tucked between the cacti and succulents. The Botanical Conservatory offers visitors a wonderful chance to relax and enjoy nature at its indoor best.