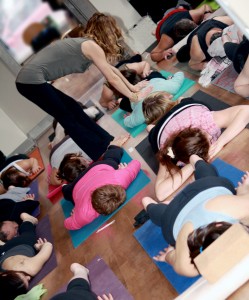 Fort Wayne is not only an easy drive to several major Midwestern metropolitan areas, it's also a gateway to Nirvana. The practice of yoga is thriving in our community. Yoginis can hit the mat in a variety of locales, from the central YMCA to several private studios set in historic buildings, strip malls and even in a downtown park. 
PranaYoga
and
Lotus
both offer central locations steeped in Zen ambience, and you can even drop in on a group session at an outdoor
gathering
. A quick glimpse around any local yoga class finds a diverse gathering, though most are female. Some are turned out in coordinated sports bras and tank tops; others prefer the comfort of an over-sized t-shirt, but nearly everyone models the ubiquitous black yoga pants. Once the province of west coast hippies or Gotham hipsters, yoga has come mainstream in the Midwest. Housewives, teachers, marketing professionals----everyone is finding something beneficial in the pursuit of a moment of zen.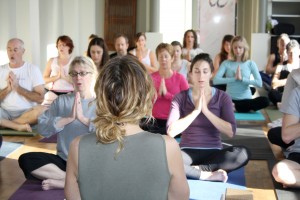 This is not your mother's yoga: this is Vinyasa (or "Flow") yoga, where the teacher cues the class through a series of poses that flow one to another with little break. The poses pause just long enough for practitioners to "go deeper" and hold muscles still until they quiver. With little equipment required and most classes able to accommodate beginners to those who've been on the path for several years, yoga is easily accessible to anyone who is curious about strength, balance and flexibility. And while you will feel stretched and strengthened and perhaps a little discombobulated, remember: at the end of every class is the period of total surrender and relaxation: savasana. Find your Namaste in Fort Wayne.