This post is part of our Three Rivers Festival feature series. Click

here

to view all Three Rivers Festival posts.

It is one of my ambitions in life to be a sophisticated world traveler. I want touch every ocean, sea, river, mountain, lake, forest and continent that I possibly can—except Antarctica. (I'm not too big on frigid weather conditions.) However, with college bills and rent looming on a monthly basis, my current plans to lead a nomadic lifestyle have been put on hold. Fortunately for me and other local would-be wanderers, Fort Wayne is built from a wide variety of people and ethnicities from the four hemispheres, and this diversity will be celebrated at International Village on July 15 and 16 during Three Rivers Festival.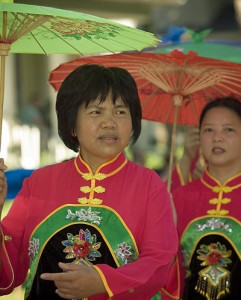 For two days, Headwaters Park West will be bursting at the seams with traditional foods, dancing, music, storytelling and artwork from all over the world. International Village provides visitors with an opportunity to meet neighbors while experiencing, learning about and celebrating peoples and cultures from around the globe that are present within the city's community. Take a break from the hustle and bustle to catch customary dancing from Asian and African cultures, or taste authentic tamales from Latin America. Admission to International Village is free, so don't miss your chance to experience a little piece of the world's many cultures right here in Fort Wayne!