Step into the past… to the roaring 20s, when the emerging Jazz age was hot and prohibition cast a cool shadow on society. Directed by Philip Colglazier, the Civic premier of
Chicago
follows the story of Roxie Hart as she struggles to achieve fame and fortune through adultery, murder and incarceration. Though she longs to be in the spotlight, so does another vaudeville starlet – and murderess – Velma Kelly. The two women vie for the public's attention, as well as the attention of their shared attorney, Billy Flynn as he works to sway public opinion of both women.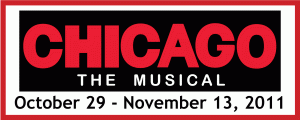 Accompanied by a pumped-up jazz score, Chicago delivers hits such as "All That Jazz," "Cell Block Tango" and "Razzle Dazzle," accompanied by amazing dance numbers choreographed by Abigail Ehinger. Performances at the Arts United Center, 303 E. Main St. in Fort Wayne. Dates/times as follows: Fri., Nov. 4, 8pm Sat., Nov. 5, 8pm
Sun., Nov. 6, 2pm Fri., Nov. 11, 8pm Sat., Nov. 12, 8pm Sun., Nov. 13, 2pm Tickets for all shows are $26, adults; $18 age 23 and under and $22 for Sunday Senior Matinees. Box office hours are Mon.-Fri., noon-6pm; Sat., 11am-3pm. For more information, contact the Civic Theatre box office at (260) 424-5220 or visit them
online.