The Fort Wayne Museum of Art extends its hospitality to visitors by opening wide the doors of Paradigm Gallery, its museum store, for extended hours on the
Second Thursdays of each month.
Hours for Second Thursdays are from 5:00 p.m.-7:30 p.m. Each month in 2012 Second Thursdays have offered different shopping options: items for gardens and lawns; new artist debuts; area jewelry artistry; sales of items under $100; demonstrations of wood turning by area artisans.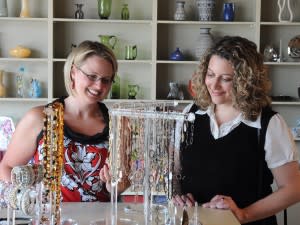 June's Second Thursday will offer views of the Paradigm Gallery with its doors literally wide open under the sky's magnificence at sunset. There is free admission during
Second Thursdays.
Fort Wayne Museum of Art 311 East Main Street Regular hours for the museum are Tuesday - Saturday 11:00 a.m. – 6:00 p.m.; Thursday 11:00 a.m. - 8:00 p.m.; Sun 12-5. Closed holidays. For additional information, call 260.424.6467 or go to
www.fwmoa.org
.