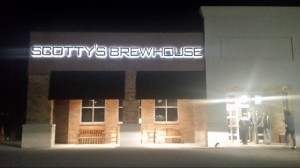 I remember standing on a booth in
Scotty's Brewhouse
in Bloomington, Indiana as the Indiana Hoosier men's basketball team defeated Maryland, the very team we had lost to in the NCAA championship the year before. Everyone was standing on their seats as the game went down to the wire and the Hoosiers won in dramatic fashion. It was one of many memories I have at Scotty's Brewhouse, both in Bloomington and Indianapolis, and I was more than thrilled when I heard it was making its way to the Summit City. There's no better atmosphere for good food, watching the game, and celebrating victories or crying over losses with fellow fans. It had been years since I stepped foot into a Scotty's, but I was instantly reminded of why I love the restaurant and bar so much. It certainly feels like a sports bar, but it also has some class. Scotty's could be your go-to place to watch the game, but it's also the perfect spot for a first date or a night out with the girls. There's certainly no shortage of televisions in Scotty's Brewhouse. While some of the tables have their own personal television sets, the bar alone has 16 large, flat-screen TVs, and others are scattered about the restaurant. If you're at Scotty's to watch sports, there's really not a bad seat in the house. Speaking of seats, Scotty's has a seat for everyone, whether you want to sit at the bar, a high-top table, regular table, or booth.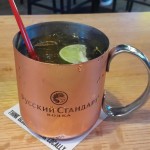 If you're looking for some reading material, settle in with
Scotty's massive drink menu
. There are tons of drinks to choose from. Be it beer, wine, martinis, mixed drinks, whatever your fancy, Scotty's has it. It was the Moscow Mule that caught my eye. The tasty combo of ginger beer, vodka and lime is difficult to find here in Fort Wayne, but Scotty's didn't disappoint and even served it in its proper, copper cup. For beer lovers, there's also something for everyone. Scotty's has all your common domestic and imported favorites, but prides itself in serving Thr3e Wise Men Brewing Co. beer, available by the glass, bullet or growler. Choosing an entrée is no easy task at Scotty's Brewhouse, and I mean that in a good way. There were so many things on the menu that sounded so delicious that my friend and I had a difficult time picking out what to eat. There are burgers, wraps, chicken, low-calorie meals, gluten-free meals, and exclusive to the Fort Wayne Scotty's: pizza! Our friendly server helped us decide on a
burger
and fries, which we each "built" the way we wanted. For a side I went with the garlic & parm shoestring fries, a garlic-lovers dream. Although I was stuffed after dinner, I glanced at the dessert menu and my mouth began to water as I recalled, from years ago, the unforgettable taste of the Half-Baked Cookie Dough Monster Skillet. While I didn't have room for it on this particular evening, I knew I'd save room the next time I was in.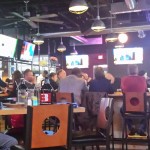 Scotty's Brewhouse was just as phenomenal as I had remembered it to be. So when our server asked if I wanted to sign up for their free
VIP Program
, I didn't think twice. Scotty's Brewhouse is officially on my list of favorites in Fort Wayne. People of all ages, and people who love good food and a fun atmosphere just can't go wrong at Scotty's. 6282 West Jefferson Boulevard - Fort Wayne