Update: Visit the Science Central page for the latest exhibit and admission details.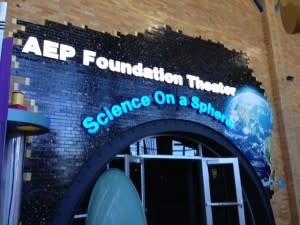 Having visited Science Central a number of times over the past 15 or so years with my kids, I've become familiar with the exhibits and highlights – from the water stations in the hands-on area to the funky tilted room. When I visited last week to take in the new Science on a Sphere exhibit, I stopped in my tracks. This is not your ordinary exhibit. The first thing that stopped me was the striking resemblance to a typical exhibit at a Chicago-based museum such as the Museum of Science & Industry or the Adler Planetarium. The room is dark, illuminated almost solely by a large, glowing planet spanning six feet in diameter, rotating mid-air in the center of the room. In kids' terms: "Coooool!"
Even as an adult, I have to admit this is really a striking and, indeed, cool feature. Visitors are then treated to the changing sights and sound as a narrator's voice comes over the speakers and explains the land shifts that occurred millions and millions of years ago, while seeing the changing land masses on the globe. It's impressive for sure. Following the paleo animation, the presentation also delves into information on ocean currents and real-time color enhanced animations. From there, the program begins discussing planets, providing bits of geographic and topographic information that are enough to grab attention, but not too much as to border on "overload."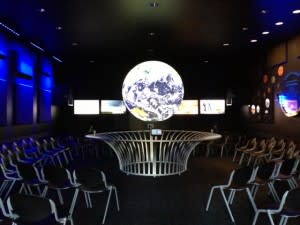 Science on a Sphere was created by the National Oceanic and Atmospheric Administration (NOAA) as a research tool, providing a three-dimensional tool to help further explain earth and space systems.
The installation at Science Central is the first of its kind in Indiana, and one of only about 80 in existence in the world. Visitors to Science Central will delight in this wonderful opportunity to experience cutting-edge technology and easily understood applications of science. Science Central is located at 1950 N. Clinton St., in Fort Wayne, and you may contact them at (260) 424-2400 or visit them online. Hours: Sun., noon-5p; Mon., Tue., closed; Wed., Thu., Fri., 10a-4p; Sat., 10a-5p. Admission: Children age 3-12 and adults, $8; seniors 65+, $7. Children 2 and under, FREE.