Looking for a farm fresh produce stand? Look no further than Schmucker's Produce Farm just outside Fort Wayne on 12815 Doty Road. Plus, they are open year round – except on Sundays and in the winter, when they are closed on Tuesdays and Thursdays.

All of the Best Produce at Schmucker's Produce Farm
When you make your way to the Produce Farm watch for the turn to Doty road carefully – it's not quite visible, yet you really know when you've missed it. The tall corn seems to separate behind you and wave. But there are signs – a big one on Doty Road, and a large one right outside the parking lot to Schmucker's Produce Farm. The high, white greenhouses also clue you in.
A lot has changed at Schmuckers since I last visited the place. The store itself is sided in log-like siding. Entrance is through one door – exit through three other doors.
Inside, the floors are a concrete laminate, polished to a high sheen. White lace valances flutter over big windows, and the feeling of being in a small supermarket takes over. Maybe it's the rattling noise of shopping carts, rolling around the aisles.
Inside Schmuckers, you'll find a little bit of everything, from seed packets to fresh fruit, popcorn and taco seasoning. In the aisles closest to the front of the store, there are rows of packaged seasonings. Celery salt, taco seasoning, onion powder, oat bran, and many other dried seasonings are set up in neatly-labeled bags, about a ½ quart each. Bags of dried noodles also fill these shelves, along with cans of instant gravy – simply heat and serve.
In one alcove is the seed stand, loaded with small brown envelopes of just about any garden veggie you want – lettuce, watermelon, squash, pumpkins, and radishes, just to name a few. At $.69 per packet, that's not too bad. A refrigerated cooler holds paper-wrapped rounds of butter and different cheeses. White Colby and low-fat hot pepper cheese were just two of the several flavors on the shelves.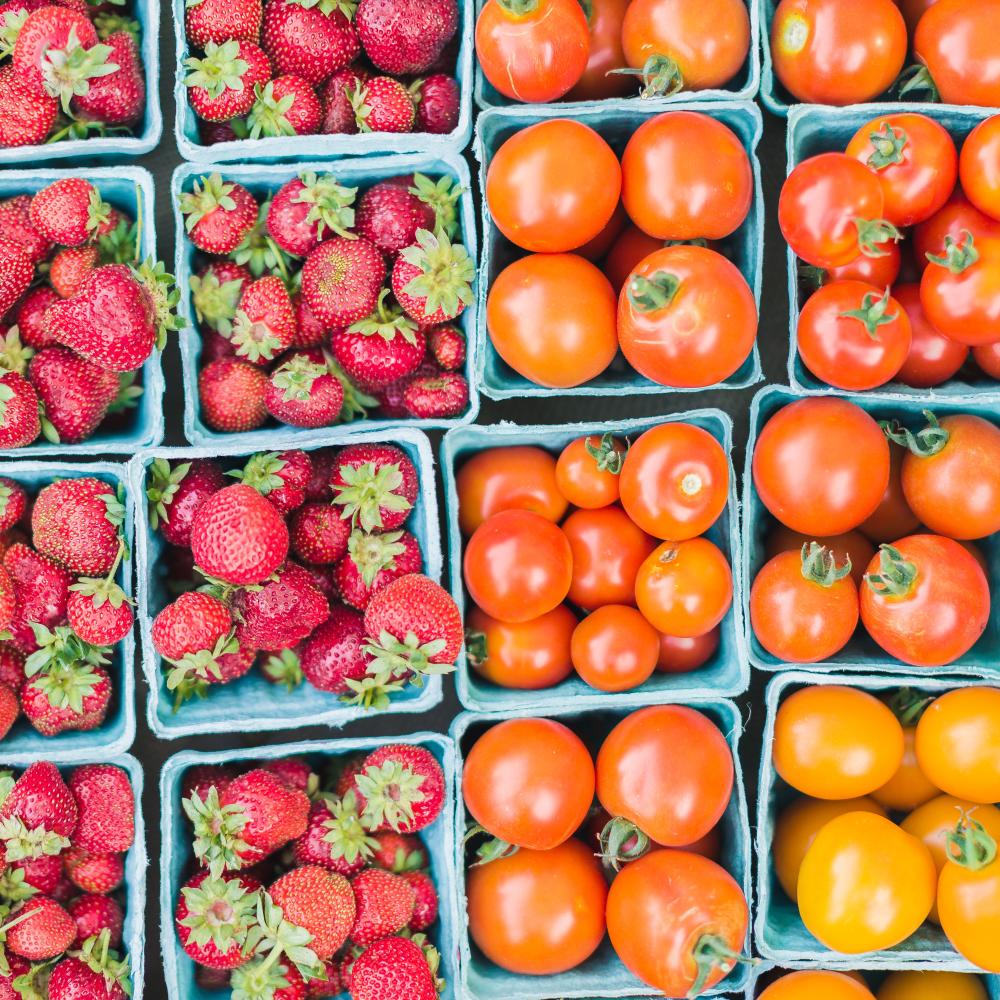 The area that hasn't changed too much is the place where wooden bins hold corn cobs. Bags for your corn are hung from the ceiling – grab your own and choose from one of several varieties of corn that fill the wooden bins. Watermelons also are piled on nearby tables, while 50-lb. sacks of onions rest on a pallet on the floor.  
Maybe the best scent at Schmuckers is the fruit. The deep, sweet scent of plums radiates from white handled bags, smelling like a piece of summer and wild freshness. Bags of apples, pears, nectarines and peaches are also available – you can buy apples in half peck, whole peck, or half bushel bags. Varieties available the day I visited were Golden Delicious, Paula Red and Gala.  
Another sensory sensation is the pepper section – Schmuckers has non-spicy, sweet green jalapeños and fiery hot banana peppers, jalapeños and habaneras. Simply stand in front of the bins for a minute – you'll feel a wave of heat. The colors are so vibrant, too – red, yellow and green, healthy and plump.
As you head towards one of the several check-out counters, you'll walk through aisles of dried beans, lentils, flavorings (like black raspberry, vanilla and coconut) and candy. Bags of popping corn, envelopes of "Amish Country Microwave Popcorn," and candy are also for sale. (The peanut butter malt balls looked quite tasty.)  
On the day I visited, people of all ages were loading cars, getting kids ready to go, and walking into the produce shop in a busy hustle. As we left, an Amish buggy trotted past, everyone dressed warmly in knit caps and coats – it was only around 50 degrees. If you want to sample some of Fort Wayne's Amish culture, just drive out of town for a short distance and you'll be right in the heart of it. The Amish staff at Schmuckers is friendly, and they appreciate "English" (their term for non-Amish) customers.
This post was originally published in October 2014 and has been updated.