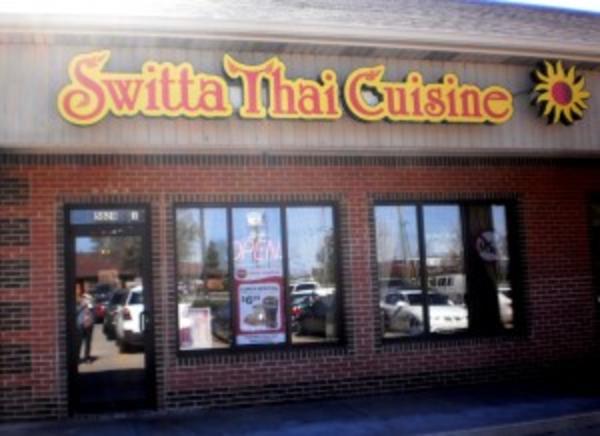 The Thai word for 'welcome' is 'sawatdee', and Switta Thai does a superb job of making each customer feel welcome!
There's no mistaking the Thai restaurant in the plaza amongst several hotels, just off of Lima Road; the restaurant's exterior features Thai architectural window frames.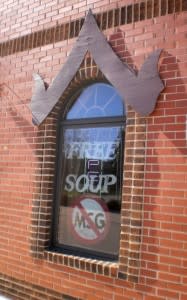 I popped in for a quick afternoon meal.  Upon opening the door, I was greeted by low, soothing Thai music and a cheerful server.  He led me around an eye-catching teak room divider to the beautiful eating area decked out in authentic Thai décor, such as images of elephants, Buddha and photographs of Thailand.
I commented to my server that I'd lived in Thailand several years ago, and we struck up friendly conversation.  He then brought me some travel brochures to browse while I waited for my meal. While reading the brochures and munching on my complimentary salad, I took notice of the lunchtime crowd.  Almost all of the customers were returning customers, as was evidenced by their jovial exchanges with my server and their clear knowledge of the menu items.  Some were using the restaurant's free Wi-fi.  All were served promptly and left with raving compliments about the food and service.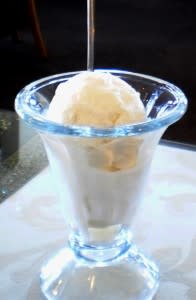 My food was fresh, steaming hot and delicious!  The cashew chicken comes with steamed rice and an assortment of vegetables.
My tongue was pleasantly tingling from the taste buds, so I concluded my meal with a bowl of creamy, coconut ice cream. Switta Thai is a gluten-free and vegan friendly restaurant that is committed to satisfying its customers.  (View menu here.) All customers receive a hole-punch card to remind them to return.
If you're looking for some delicious cuisine in a relaxing and cultural atmosphere, Switta Thai is the place to be!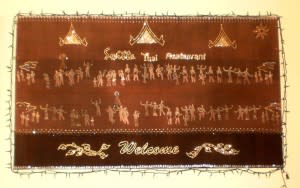 Switta Thai is located at 5820 Challenger Pkwy, Fort Wayne, IN 46818 (260) 497-9429. Their hours are: Hours:  Lunch: Mon- Sat 11-2:30, Dinner Mon-Sat 5-9 pm, Closed Sunday. For more information on Switta Thai and their great menu you can find them online on Facebook and their own website.